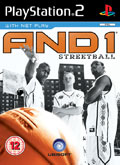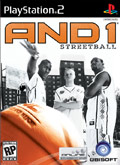 TITLE And 1 Streetball
GENRE Sport
PLATFORM PS2
DEVELOPER Black Ops
US PUBLISHER Ubisoft
UK PUBLISHER Ubisoft
NORDIC PUBLISHER Ubisoft
ONLINE PLAY Yes
Media Screenshots:
SCREENS ADDED: 17 May-2005
Videos:
Official Fact Sheet:
With unprecedented depth, freedom and control, AND 1 Streetball features the entire roster of sensational AND 1 Mix Tape Tour players such as AO, The Professor, Spyda and Pharmacist ? each with their signature moves and look. AND 1 Streetball also gives you the power to create your own player and your own moves ? so YOU can become the next streetball phenomenon.
The highly immersive Story mode puts you on the AND 1 Mix Tape Tour ? the world?s premier streetball event, where originality and the ability to electrify the crowds will get your name mentioned alongside the streetball legends. But to become a legend in true AND 1 Mix Tape Tour fashion, you must continue to work on your skills and elevate your game every time you play.
Step into the shoes of the AND 1 players to execute mesmerizing moves like Hot Sauce?s killer crossover, Helicopter?s rim-bending dunks, and The Professor?s no-look passes.
Build your own character and create your own signature moves using AND 1?s revolutionary Create-a-Move editor, loaded with custom showboating, scoring, and celebration moves.
School the competition with I-Ball controls, an intuitive control system that gives you fluid and precise command over every offensive and defensive move. Not only will you do it, you will also feel it.
Story mode allows you to experience the trials and exhilarations of getting signed to the AND 1 Mix Tape Team, as seen on ESPN. Dominate the open run, survive the hazing, and bring it home in the final game, as seen on ESPN.
Play the game you want to play. Scale your teams anywhere between one-on-one to five-on-five. Run a full-court game, or do a half-court battle ? the choice is yours.
Just like the AND 1 Mix Tapes, the music soundtrack features a loaded library of unreleased songs. The eclectic mix of exclusive hip-hop tracks represents various styles including West Coast, East Coast, and the Dirty South Crunk! Each court has its own sound and flavor.
Put your skills to the test against other top players as you showcase your own creative moves and strive to gain a reputation as the best.