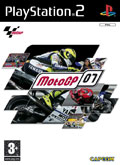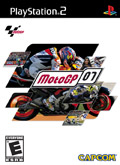 TITLE MotoGP 07
GENRE Racing
PLATFORM PS2
DEVELOPER Milestone
US PUBLISHER Capcom
UK PUBLISHER Capcom
NORDIC PUBLISHER Capcom
ONLINE PLAY TBA
Media Screenshots:
SCREENS ADDED: 23 Aug-2007
Videos:
Official Fact Sheet:
As an officially licensed MotoGP title, MotoGP 07 for the PlayStation 2 will feature all the riders, bikes, teams and tracks from the 2007 season. Players can faithfully re-create the excitement and passion of the sport and experience the rivalries and competition synonymous with the world?s premier motorcycling championship, as they ride for glory. Compete in a full season, create your own customised season, or select a one-off race either on your own or against a friend.
Whether gamers are new to the racing genre, fans of four-wheeled racers looking for a new challenge or veterans of motorcycle games, the diverse handling models of MotoGP 07 will allow players of varied skill levels to access and enjoy the adrenaline fuelled world of MotoGP. Features such as riding aids will provide newcomers to the series with the confidence to push their bikes to the limit. Experienced players will have the option to independently control front and rear brakes as well as the rider?s position, making them feel at one with their bike as they enter and exit the tightest of hairpins inches from the tarmac, before stepping on the gas to reach speeds of well over 200mph/320kph. Plus players can also adjust the AI of their race opponents, modifying speed and ability to match their own riding level and create a more balanced race.
Featuring a comprehensive set of 100 trials, each available at three difficulty levels, MotoGP 07?s Challenge Mode will test and hone players? skills. Events include slalom challenges where players handling abilities are put to the test as they navigate a series of gates placed the length of the circuit and time trials which challenge players to beat the lap record for each circuit.
Riders and their bikes, teams and all 18 official tracks from the 2007 season faithfully and painstakingly re-created
Unique Game modes including – Championship / Quick race / Time Attack / Challenges/ Multiplayer
Selectable riding models to suit your skill-set and style
A variety of immersive and challenging opponent behavioural models to select depending on ability
Challenging weather effects
Accurate physics models based on real data
Motorbike sound-effects recorded from actual MotoGP bikes