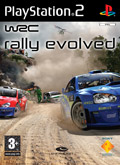 TITLE WRC: Rally Evolved
GENRE Racing
PLATFORM PS2
DEVELOPER Evolution Studios
US PUBLISHER N/A
UK PUBLISHER SCEE
NORDIC PUBLISHER SCEE
ONLINE PLAY Yes
Media Screenshots:
SCREENS ADDED: 19 May-2005
Official Fact Sheet:
Interactive events that affect game play: Unpredictability is the name of the game as you race across the world's most challenging terrains without knowing what's around the corner…a crash, a flood, a forest fire, tumbling mountain rocks…who knows? The 'events' change every time you play so get prepared to expect the unexpected just like the professionals…
Multi-car wheel-to-wheel action: Up to 8 cars on the same track, at the same time in the on-line Multi-car mode! This features 16 stunning, purpose built circuits that capture the best of every rally country. Go head-to head and smash the other cars off the track to win as you navigate not only the challenging terrains but the fierce competitors…
Smash and' Crash- More Realistic Than Ever… On the edge and closer to reality than ever before, the new damage system means collisions are more satisfying as debris is strewn from the car. For the first time in WRC history the rally cars can sustain any inflicted crash and collision damage across the whole stage, with the handling changing to reflect this.
Real-life co-driver- Hear the Fear! The vastly improved co-driver signals now give players the feeling of a real human being guiding them through the challenging stages of every rally. Believable and convincing, the co-driver now reacts dynamically to the action, giving detailed, impassioned help and guidance through pace notes drawn up by a real rally champion. The co-driver is sensitive to the racing conditions: his voice changes according to the road surface and breakneck speed, conveying real emotions in both victory and defeat.
Stunning new audio-visual effects: The developers at Evolution Studios have worked their magic yet again – pushing PlayStation 2 even further to produce breathtaking graphics, sensational real-rally sounds and awesome new effects – the incredible deformable environments means you can crash into a wall and watch it collapse! This winning combination delivers players a sensation of increased speed that will leave them literally shaking on their sofas!
A completely new particle system: has also been added to WRC: Rally Evolution(wt) that generates dense smoke, fire and deep water – all of which affects visibility and the handling of the rally car – putting players out there on the edge.
Increased accessibility: Even more people can feel like a true World Rally pro through a range of new features. A progressive championship mode starts with easier stages first. Optional driver aids mean the car can be tuned depending on players' ability and redesigned tracks let beginners power slide around corners with ease so the thrill of rallying can be captured and enjoyed whatever your level.