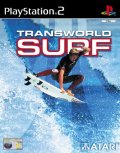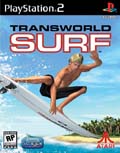 TITLE TransWorld Surf
GENRE Sport
PLATFORM PS2
DEVELOPER Rockstar San Diego
US PUBLISHER Atari
UK PUBLISHER Namco Bandai Partners (Atari)
NORDIC PUBLISHER Namco Bandai Partners (Atari)
ONLINE PLAY No
Media Screenshots:
SCREENS ADDED: 31 Mar-2005
Official Fact Sheet:
TransWorld Surf allows you to use the moves that made guys like Taj Burrow, Andy Irons, and Shane Dorian famous to pull off massive airs, blazing tailslides, and hundreds of other mind-numbing tricks. Drop into over 20 of the world's sweetest breaks and get hooked on incredibly realistic water. Transport yourself to internationally renowned surf locales including Todos Santos, Hossegor, and Tavarua. Surf against your friends in exciting multiplayer modes including Shark Attack and King of the Wave. Learn how the pros do it by watching real surf videos. Create your own kickin' soundtrack with the more than 50 music tracks. Hitch a ride with the Reef Girls, watch out for the hungry sharks, and remember to save your best moves for the TransWorld photographers who just may put you on the in-game cover of TransWorld Surf.
New for PlayStation 2: Ride the tube in Todos Santos' big wave location. Avoid being "it" in the multiplayer Shark Attack mode. Get up on the wave quickly and easily with a training mode.
Surf as one of 13 pros including Rochelle Ballard, Shawn Barron, Taj Burrow, Jason Collins, Tim Curran, Shane Dorian, Christian Fletcher, Andy Irons, Taylor Knox, Cory Lopez, Dan Malloy, Fred Patacchia, and Chris Ward.
Over 20 breaks modeled after ten real-world locations including Huntington Beach (Los Angeles), Hossegor (France), Kirra Point (Australia), Fort Point (San Francisco), Witches Rock (Latin America), Tavaura (Fiji), G Land (Indonesia), Todos Santos (Mexico), Pipeline (Hawaii), and Teahupoo (Tahiti).
Pull off insane tricks off the most realistic, randomly-generated 3D wave ever.
The TransWorld stamp of approval–the most respected action sports content provider.
The Karma Meter allows the player to interact with different objects and people to change the gameplay experience to suit their style. Land a big scoring trick and your karma meter becomes positive so that sharks are less likely to attack you.
Interact with many different environments, objects, and animals (including other surfers and bodyboarders, sharks, dolphins, wave runners, boats, coral, etc.) Get eaten by a shark or let the Reef girl tow you out to the gnarliest wave.
Avoid being "the shark" by pulling off the biggest tricks in Shark Attack multiplayer mode. Eight game play modes including single-player Pro Tour, Free Surf, Competition, and Single Session modes, as well as multiplayer Free Surf, Competition, Shark Attack, and King of the Wave modes. In Pro Tour mode, pull off a trick in front of the cameramen for potential magazine opportunities to unlock new breaks and levels. Sick pumping soundtrack featuring both licensed and original music.
Special user-controlled camera views during replay make the game play even more realistic.
Features surfing lifestyle videos and 50 industry sponsors that underscore lifestyle commitment including Hurley, Volcom, Billabong and Nixon