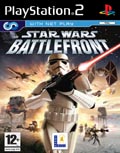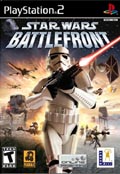 TITLE Star Wars: Battlefront
GENRE FPS
PLATFORM PS2
DEVELOPER Lucasarts
US PUBLISHER Lucasarts
UK PUBLISHER Lucasarts
NORDIC PUBLISHER Lucasarts
ONLINE PLAY Yes
Media Screenshots:
SCREENS ADDED: 12 May-2004
Official Fact Sheet:
Battlefront is an action/shooter game that gives fans and gamers the opportunity to re-live and participate in all of the classic Star Wars battles like never before. Players can select one of a number of different soldier types, jump into any vehicle, man any turret on the battlefront and conquer the galaxy planet-by-planet online with their friends or offline in a variety of single player modes. Single player modes include "Instant Action," "Galactic Conquest" and the story-based "Historical Campaigns" mode that lets gamers experience all of the epic Star Wars battles from Episodes I-VI, fighting from the perspective of each of the four factions within the game.First and third-person gameplay ? depending on player preference.
Three single player modes including "Instant Action," "Galactic Conquest" and the story-based "Historical Campaigns" mode.
Multiplayer for up to 16 players (plus AI units) online.
Split-screen mode for multiplayer 'offline' play.
Battle in more than 12 environments across 10 diverse planets from the classic Trilogy and Clone Wars eras including Hoth, Endor, Tatooine, Kamino and Geonosis.
20 different soldier types from 4 factions: Rebel Alliance, Galactic Empire, Republic Clone Army and Separatist Battle Droids. Soldier types include standard infantry, scouts, heavy weapons and pilots – each will have their own unique abilities.
More than 30 Star Wars weapons including blaster rifles, rocket launchers and thermal detonators, in addition to ground-based turret guns that can be manned and used to defend command posts.
More than 25 diverse ground and air vehicles including the AT-ST, X-Wing, and speeder bike, as well as the massive Republic Gunship that can hold up to five different soldiers.
Customizable controls on all systems.
Supports voice chat via compatible headsets (PlayStation 2, Xbox and PC).
Requires PlayStation 2 network adapter, Xbox Live kit and Internet PC for online multiplayer games.