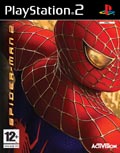 TITLE Spider-Man 2
GENRE Action
PLATFORM PS2
DEVELOPER Treyarch
US PUBLISHER Activision
UK PUBLISHER Activision
NORDIC PUBLISHER Activision
ONLINE PLAY No
Media Screenshots:
SCREENS ADDED: 01 Feb-2007
Official Fact Sheet:
Spider-Man 2, the highly anticipated follow-up to Activision's 2002 smash hit, is the first game to fully immerse players in the role of Spider-Man and propels them into a living city teeming with common criminals, super villains and pedestrians. Set in a massive free-roaming, do-anything, virtual city, players swing from buildings, sling webs on structures, dive from roof tops to sidewalks, jump across skyscrapers and scale tall heights as they patrol and protect the city from the nefarious Doc Ock. Based on the plot of the movie and extending beyond the film with other diabolical Marvel villains, additional missions and random events, Spider-Man 2 is the most in-depth Super Hero game to date.
Swing from the movie theater to your living room – Re-capture the movie experience and become Spider-Man in the comfort of your own home, following the story and battling Doc Ock in locations taken straight from the movie, as well as original story and missions exclusive to the game.
The entire city of is your playground – Gamers immerse themselves in a go anywhere/do anything virtual New York City, populated by cars, pedestrians and criminals. Players scale the heights of the tallest skyscrapers and jump from rooftops to street level as they patrol the city in search of people in need of help.
"Spider-Man…Spider-Man…does whatever a spider can" – All new realistic physics immerse players in the role of the world's most celebrated crime fighter like never before as they spin webs and swing from actual locations like building corners, lampposts, flagpoles, trains – even helicopters. Gamers can harness super strength for powerful jumps and lightning-fast wall crawling.
More Marvel comic characters than ever before – In addition to Doc Ock, as featured in the upcoming film sequel, gamers must battle a plethora of characters in Spider-Man's legendary Rogue's Gallery of villains who make exclusive game appearances, including Mysterio and Black Cat.
A Super Hero's got to do, what a Super Hero's got to do – Take time out from main missions to foil random crimes in the streets and help the citizens on Manhattan. The game's new combat system challenges players to be more strategic and use new web attacks to disarm opponents and dodge and duck opponent's advances. The more crimes Spider-Man prevents, the more players hero rating increases, giving them access to advanced attacks combinations and maneuvers.