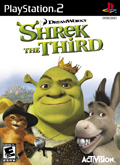 TITLE Shrek the Third
GENRE Action/Adventure
PLATFORM PS2
DEVELOPER Amaze Entertainment
US PUBLISHER Activision
UK PUBLISHER Activision
NORDIC PUBLISHER Activision
ONLINE PLAY TBA
Media Screenshots:
SCREENS ADDED: 02 Mar-2007
Videos:
Official Fact Sheet:
In Shrek the Third, players adventure as Shrek and his friends to save Far Far Away in a hilariously twisted fairy tale from the movie and beyond. Fans play as their favorite heroes from the film: Shrek, Donkey, Puss-in-Boots, Fiona, Fiona?s rebellious cousin Arthur and her fellow fairy tale heroine Sleeping Beauty. The game takes players on an epic journey through the worlds of Far Far Away after Prince Charming storms the city with an army of villains in order to seize the throne. Players are challenged to rescue pals, face off against Charming?s henchmen, gather collectibles, test their gaming skills in numerous boss fights and engage in various single-player and multiplayer mini-games.
Gamers interact with characters from the film as well as new characters exclusive to the game in order to take advantage of their unique moves, special abilities and combat skills.
Players travel through the epic Shrek universe in 20 peril-filled movie-based and game exclusive levels such as Academy Grounds, Evil Queen?s Castle (game exclusive), Pirate Ship and more.
Epic boss battles draw fans further into the Shrek universe as they defend the kingdom of Far, Far Away against Prince Charming and his bumbling band of down and out fairytale friends.
As gameplay progresses, players learn to use each character?s unique moves for the challenge at hand.
Players learn to utilize each character?s special abilities and combat skills including Shrek?s ?Ogre Power?, Fiona?s ?Flying Kick?, Puss N? Boots ?Cute Puss?, Sleeping Beauty?s sleeping ?Swoon? attack, and Artie?s ?Power of Excalibur? that must be used successfully to get back to Far, Far Away.
Unique levels with numerous puzzles and platform challenges including three Princess levels (players play as Fiona and Sleeping Beauty) challenge gamers to work their way out of difficult situations.
Gamers can engage in six multiplayer mini-games including Castle Attack, Shrekleboard, Frog Herder, Shooting Gallery, Catacombs Leap and Ships Ahoy.