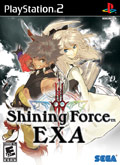 TITLE Shining Force EXA
GENRE RPG
PLATFORM PS2
DEVELOPER SEGA
US PUBLISHER SEGA of America
UK PUBLISHER N/A
NORDIC PUBLISHER N/A
ONLINE PLAY No
Media Screenshots:
SCREENS ADDED: 21 Dec-2006
Official Fact Sheet:
Shining Force EXA plunges gamers into stunning interactive worlds of swords and sorcery that the classic series is best known for. An all-new Fortress System brings deeper strategic elements than ever before, allowing players to develop their home base into a thriving arsenal that will ensure their success in battle. As either Toma, a talented sword fighter boy, or Cyrille, a cunning female sorceress, players will restore order in a world ravaged by decades of war. They will lead their battle parties into combat with strategic campaigns and defend their home base against the encroaching beasts.
Tactical battles with deeper strategy. Implement aggressive offensive and defensive strategies to protect your fortress and fend off encroaching enemies.
Defend your Fortress with your own battle style. When you?re not leading your battle party, guard your base with five battle types – Basic Mode, Bombardment, Recovery, Enemy Scouting, and Absolute Defense.
Two playable heroes in one adventure. Bring peace to the war torn region with Toma?s one-handed and two-handed sword attacks or Cyrille?s long-range magic spells and crossbow attacks.
Revamped Party AI. Utilize the specific battle tactics of your party members for more power and range in battle.
Develop and customize your warriors. Upgrade your character through battle experiences and customize them with hundreds of items and weapons to make the ultimate warriors.
Alter the behavior of your party members. By equipping different items on party members, players will be able to tune the behavior and personality of the characters.
Enhanced Power Arts System. Players will master different Power Arts and unleash a wide variety of powerful magic attacks.