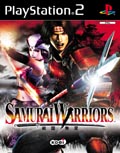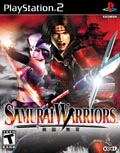 TITLE Samurai Warriors
GENRE Action
PLATFORM PS2
DEVELOPER Omega Force
US PUBLISHER KOEI
UK PUBLISHER TECMO KOEI Europe
NORDIC PUBLISHER TECMO KOEI Europe
ONLINE PLAY No
Media Screenshots:
SCREENS ADDED: 25 Mar-2004
Official Fact Sheet:
Draw your sword and prepare to fight some of the fiercest battles in Japanese history. Samurai Warriors? takes you back to 16th century Japan where political turmoil caused a series of major wars between individual warlords fighting for power. Be one of the many who hope to shape Japan's future and dominate the land.
Samurai Warriors takes the techniques and expertise gained during the production of the award-winning Dynasty Warriors? series and combines it with new energy to create the next evolution of Tactical Action games. For the first time players will enter the world of ancient Japan to fight in both historical and fictional battles.
The action in Samurai Warriors takes place within castle walls and on the sprawling battlefields of Japan's violent past. With an Active Mission System that triggers a distinct mission during every battle, players can engage in hundreds of different mini-missions within the larger epic battles. Randomly changing castle layouts and paths offer even more depth to the missions.
Play as the brave Sanada Yukimura or choose to play other legendary Samurai including Oda Nobunga, Uesugi Kenshin, and Takeda Shingen. Each character has a unique story and will develop according to experience points gathered during missions.
In addition to the main play mode, Samurai Warriors includes Free, Survival, Versus, and Challenge modes, and a Vault. The new Officer mode allows the user to create a warrior by clearing a series of mini-games.
Multiple epic battle missions allow each character a unique gameplay experience. Endure the hallowed Japanese battlefields spacing of spacing Okehazama and Kawanakajima or enter the embattled walls of Osaka Castle where you will come face-to-face with gun-toting troops, echelons of ninja, and deadly kunoichi (female ninja).
Engage in over 500 mini-missions based on intense battleground scenarios that are always changing due to player movement and the war situation. Success or failure will affect the events in the stages that follow.
Play over 15 new characters, both historical and fictional. Choose from warlords, samurai, and ninjas-or create your own character.
Choose from a variety of traditional weapons including Japanese long swords, katana swords, shuriken (throwing stars), kunai (daggers), and a kusarigama (sickle and chain). Additional hidden weapons can be unlocked throughout the game.
Develop your character based on experience points rather than acquiring weapons and items. Players can invest points towards specific character skills and abilities which will directly affect missions.
Challenge an enemy officer! Duels are presented throughout normal play which will affect player morale. The screen will switch to a duel-screen to best represent the one-on-one fighting game.
Never play the same level twice with the new Auto Formation System. Castle layouts change each time the game is played. In addition, traps present dangers and bring a new experience to the player during each mission.
Create a Warrior: Enjoy a variety of sub-modes, such as the new Officer mode where you can create an original character.
Rich environmental audio sets the mood of gameplay action and environment. Both seasonal and time elements enhance the visuals throughout the game.
Multiplayer Support: Two-player co-op and head-to-head Versus modes.