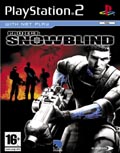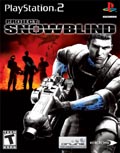 TITLE Project: Snowblind
GENRE FPS
PLATFORM PS2
DEVELOPER Crystal Dynamics
US PUBLISHER Eidos Interactive
UK PUBLISHER Eidos Interactive
NORDIC PUBLISHER Eidos Interactive
ONLINE PLAY Yes
Media Screenshots:
SCREENS ADDED: 14 Mar-2005
Videos:
Official Fact Sheet:
Experience the dramatic intensity of the frontlines of a war through the eyes of the first of a new breed of super soldiers in this gritty and epic first-person action game.
Players live the fantasy of being an elite special operations combat soldier with access to the most high-tech weaponry, gadgets and vehicles, presented with all the realism, emotional intensity, and valor found in the popular ?War Games? shooter genre.
Robust online multiplayer experience with 16 players and voice over IP support ? classic and new multiplayer modes are offered, including some modes uniquely designed for the PS2 and XB platforms
Arsenal of unique weapons and secondary items including the Riot Wall? and the ?Kicker? physics gun yield a variety and depth of gameplay never before realized, especially when leveraged in multiplayer play.
Vehicles serve as functional obstacle solving tools, for rescue attempts and as weapons in both single and multiplayer gameplay
Use Biomods to customize, upgrade and exploit the superhuman powers of your character
Build an emotional connection to your comrades in battle; during the missions you have the power to rescue, heal and protect them. Neglect their cries for help and view with shame their names on the War Memorial Wall at the end of the game
Wide variety in mission pacing ranges from frenetic action of battlefield chaos to tactical infiltration style missions
Storyline is grounded in a believable, relevant near future setting, in a war as seen through the eyes of a hero
Pick-up and' play, visceral action pulls the player through a cinematically immersive storyline
11 missions spanning across 16 maps including the dilapidated Opera House, the twisting jungle at the city perimeter, a Buddhist Temple converted, and sprawling urban Wasteland