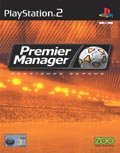 TITLE Premier Manager 2002
GENRE Strategy
PLATFORM PS2
DEVELOPER Runecraft
US PUBLISHER N/A
UK PUBLISHER Zushi Games
NORDIC PUBLISHER Zushi Games
ONLINE PLAY No
Media Screenshots:
SCREENS ADDED: 19 Mar-2005
Official Fact Sheet:
Watch each players facial animations to sense their mood and feelings. Take this information into crucial negotiations – or face unwanted transfers and visits to the Job Centre. With 5 European leagues running simultaneously and Europe at stake, every detail will matter. In-depth tactical, financial and transfer options create an unmatched and very ?human? entry into the high-pressure world of football management.
1 Player Memory card (8MB) (for PlayStation?2): 1600KB minimum Analog Control Compatible: Analog Sticks Only.
Experience the pressure of real life management
Schedule time to prioritise events and duties e.g. training sessions, press conferences, and contract negotiations
Sport never stops on the (in-game) 24 hour Eurosportnews TV channel
that displays everything from tables and' fixtures, to new rules and' stock market flotation's.
For the first time in a video-game, you can discuss in real-time with club directors, commercial managers, player agents, and' journalists.
Learn from their expressions to achieve the best possible results.
Pick a team from 1 of 5 European leagues and' take control.
Tactics, transfers, team management, finances, club development and much more are now in your hands!
Uses SoundMax sound creation and delivery SDK ? 1986-2001 by Analog Devices, Inc. All rights reserved.