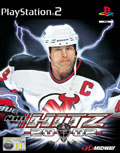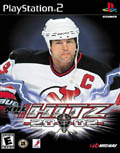 TITLE NHL Hitz 20-02
GENRE Sport
PLATFORM PS2
DEVELOPER EA Black Box
US PUBLISHER Midway
UK PUBLISHER Midway
NORDIC PUBLISHER Midway
ONLINE PLAY No
Media Screenshots:
SCREENS ADDED: 02 Sep-2005
Official Fact Sheet:
Developed by the accomplished hockey development team Black Box Games, Ltd., NHL? Hitz 20-02 is the only videogame with larger-than-life, adrenaline hockey, big hits, rocket goals and exciting gameplay. Officially licensed by the NHL? and the NHLPA with real NHL? teams and athletes, NHL? Hitz 20-02 features 3-on-3 (plus goalies), lightning-fast gameplay, play-by-play commentary and a "never-before-seen" interactive 3D crowd. The crowd will do the wave, react to the action and increase and decrease in size between periods depending on the importance of the game and the score. Gamers will definitely feel the burn of a 125MPH slap shot as the frenzied fans heckle them from the bleachers.
To add even more NHL realism, New Jersey Devils' defenseman and 2001 NHL? All-Star Scott Stevens signed an exclusive deal with Midway to be the signature athlete for NHL? Hitz 20-02. The MVP of the 2000 Stanley Cup? Playoffs appears on the package cover and in NHL? Hitz 20-02 advertising materials.
NHL? Hitz 20-02 also features an in-game jukebox, with some of today's hottest songs and bands including chart-toppers "Rollin'" by Limp Bizkit and "Make Me Bad" by Korn. The jukebox allows gamers to choose from and listen to popular, pulse-pounding tunes while playing the game.
Mini games with skills competitions help players hone their skills before games, while multiplayer hockey allows one to six gamers (PlayStation 2 computer entertainment system) to face off against one another. Gamers can also create the ultimate ice warrior with the Create-A-Player feature.
Adrenaline-Style, Over-the-Top Gameplay-Players leap, glide, check, pass and score on would-be defenders
Outrageous, Over-the-Top Animations-Watch out for the blistering "on fire" puck
NHL? and NHLPA Licensed Product-Play your favorite NHL? teams and players
Classic Midway Sports On-Fire Mode-Players and teams catch fire and become almost unstoppable
Fully 3D Modeled Crowd-First interactive 3D crowd in any sports videogame
30 Arenas-Players choose from a variety of arenas
Fantasy Stadiums, Hidden Teams and Players-Secret arenas presented in a unique fantasy setting, as well as hidden teams and special players to unlock along the way
Big Players-Huge player models with real player faces and expressions
Mini-Games-Including skill competitions
Create-A-Player-Allows players to design their ultimate ice warrior
High Powered Play-by-Play-Commentary to describe all of the outrageous action
Big Hits-Aggressive hits that can break the glass
Different Player Skill Sets-Real player stats, abilities and attributes
Multiplayer Hockey-One to six players (PlayStation 2); One to 4 players (Xbox and Nintendo GameCube)
In-Game Jukebox-Allows gamers to hear the following songs while playing: