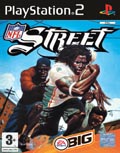 TITLE NFL Street
GENRE Sport
PLATFORM PS2
DEVELOPER EA Sports
US PUBLISHER Electronic Arts
UK PUBLISHER Electronic Arts
NORDIC PUBLISHER Electronic Arts
ONLINE PLAY Yes
Media Screenshots:
SCREENS ADDED: 09 Jul-2003
Official Fact Sheet:
From the developers of Madden NFL Football comes a new brand of football where style is BIG: NFL STREET. NFL STREET blends fast paced arcade action with street culture to create a unique new gameplay experience where NFL stars become larger than life personalities. Players battle to earn the enhanced gear and attributes necessary to dominate the urban environments.
NFL STREET features fast-paced, 7-on-7 gameplay where players high step, pitch, and crush their way down the field. Choose from 300 of the NFL's biggest ballers from all 32 teams including legends like Barry Sanders. The gameplay controls are easy to pick up but challenging to master.
Outscoring your opponents is no longer enough. Bring some style to your game by showboating down the field to earn the gamebreakers necessary to rule the streets.
Gameplay: Hard-hitting 7-on-7 arcade gameplay challenges players to show their skills on both offense and defense. Big jukes with bone-crunching tackles, pitches, and a wealth of showboat moves are available. There are no penalties so everything is fair game, and none of that sissy stuff like punting, kicking, or field goals. Trick plays will leave your opponents head spinning-it's all about style over strategy.
Create-a-Team: Create a player and build a team, filling all positions.
Choose from hundreds of swappable clothing and accessories to customize player's hairstyle, tattoos, and more. Choose the team's colors and logo and unlock style and impact gear to enhance your player's performance and style. Earn Dev points to build your players into superstars.
Game Play Modes:
NFL Challenge: Bulldoze through 31 teams while building the ultimate team with dozens of unlockables.
Pick Up Game: You're always the captain and you take turns with your opponent, selecting your team from 40 randomly selected NFL stars.
Online Play for the PlayStation 2: Rule the streets from coast-to-coast.
BIG-time NFL Personality: More than 300 current NFL stars and legends such as Barry Sanders. Each player model exaggerates the real-life features of their counterparts. No helmets, so their real personalities are front and center on the field.
EA SPORTS BIG? Trick System: Great plays earn Showboat points which will eventually reward gamers with a Gamebreaker. Gamebreakers put a player into "the zone" where they can plow through the opposing team or knock the ball loose on defense.
Original Interactive Environments: Seven unique fields will affect your strategy. Varying field dimensions and surfaces (including sand and mud) force players to adapt their rosters. Play on a beach, in a park, on a corner lot, and more.
BIG Audio: The game features a licensed soundtrack from top hip-hop and rock artists.
Multiplayer Competition: Cooperative gameplay or head-to-head action with up to four of your friends.