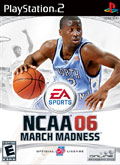 TITLE NCAA March Madness 06
GENRE Sport
PLATFORM PS2
DEVELOPER EA Sports
US PUBLISHER Electronic Arts
UK PUBLISHER N/A
NORDIC PUBLISHER N/A
ONLINE PLAY Yes
Media Screenshots:
SCREENS ADDED: 14 Jul-2005
Official Fact Sheet:
Featuring an even deeper playbook that covers both ends of the court, NCAA March Madness 06 delivers the ultimate strategic basketball experience. Dominate rivals with a more authentic brand of defense and push the ball on offense with an enhanced Floor General Playcalling system featuring more sets than ever before. Pick your senior leader and watch as his emotion and passion lifts the intensity level of his teammates and excites the raucous campus crowds. Brad Nessler and Dick Vitale call all of the action including the College Classics featuring 10 new classic games, making dream match-ups a reality. With an enhanced Dynasty Mode?, the road to the Final Four begins with NCAA March Madness 06.
All-New EA SPORTS? Lockdown Stick: Play aggressive D and get in your opponent's face with the new innovative right analog control. Pressure your opponent and dictate his every move by playing physical on-the-ball defense, trapping, forcing turnovers, denying passes and jumping into passing lanes.
All-New Defensive Floor General Playcalling: Level the playing field on defense with all new diagrammed defensive playbooks. Customize your playbook to suit your team's style of play. Play straight up man to man or a zone and create havoc with your opponent.
Up Tempo Basketball: Create turnovers that lead to easy baskets with an improved transition game. Push the ball up the floor, dish to an open teammate, ignite the fans with a fast break and run the other team into the ground.
Senior Leader: Watch your team leader's attitude, passion, and leadership grow. Players feed off his energy as his intensity and aggressiveness affects the team's overall performance. Will he ignite teammates and fans and bring the arena to life, or will he stumble under the pressure?
Enhanced Dynasty Mode: Use your assistant coaches to gather specific information on upcoming games, teams and players. Recruit high school and Junior College players with all new stat tracking and player ratings. With an incredibly deep and revamped
EA SPORTS Dynasty Mode?, build a powerhouse and run your program for up to 30 years. A new in-season recruiting model puts a premium on signing EA SPORTS All-Americans and the rest of the nation's top high school prep talent.
College Classics: Make dream match-ups a reality and recreate 20 of the greatest moments in the history of college basketball in College Classics. Ten new games allow you to replay classic games and historic scenarios to unlock your favorite teams from the past. All new classic teams include All-Conference and All-Time teams from selected schools. Unlockable old-school jerseys and shoes help customize your experience.
School Spirit: From the mascots and cheerleaders to the authentic fight songs and student-section crowd chants, NCAA March Madness 06 is as close as you can get to being in the game. Steady yourself and show your schools toughness by knocking down two free throws to ice your opponent in the most hostile environments in college basketball, all while the arena rumbles as the controller vibrates and the camera shakes.
Ball Against the Nation: EA SPORTS Online for the PlayStation 2* console and Xbox Live allows users to play online against opponents from around the country. An online lobby area allows gamers to meet, greet, chat, set up tournaments, download roster updates, and play NCAA March Madness 06 head to head. Make it to the top, and then try to maintain your place as the best gamer-any time, any place.