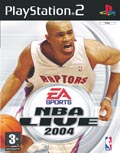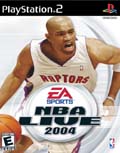 TITLE NBA Live 2004
GENRE Sport
PLATFORM PS2
DEVELOPER EA Sports
US PUBLISHER Electronic Arts
UK PUBLISHER Electronic Arts
NORDIC PUBLISHER Electronic Arts
ONLINE PLAY Yes
Media Screenshots:
SCREENS ADDED: 09 Jul-2003
Official Fact Sheet:
With expanded EA SPORTS? Freestyle Control, authentic basketball gameplay, and stunning graphics, NBA LIVE 2004 delivers the definitive basketball experience. Whether running the point with one-button Quick Plays, spinning free in the lane for a vicious dunk, or locking down on defense, LIVE puts players in total control. With a dramatically enhanced EA SPORTS Dynasty? mode, the ability to take the court at every NBA arena?each rendered to the deepest detail?and all-new commentary from Marv Albert and Mike Fratello, NBA LIVE 2004 is all about authenticity. Blow past your defenders with all-new moves, an even better passing game, and silky smooth control in the fine-tuned EA SPORTS Freestyle Control. Step up your game with NBA LIVE 2004.
Play the Point: With a single button, run authentic offensive and defensives sets for every NBA team?be the point guard on the floor, responding to the flow of the game. Whether you prefer the triangle of the Lakers or the vintage Jazz pick and roll, you?re in control.
EA SPORTS Freestyle Control: By using the right analog stick, EA SPORTS Freestyle Control provides complete freedom to express your game and makes for the ultimate authentic basketball gaming experience. It?s a complete revolution in the way basketball games are played.
Battle Inside: New animations, new AI logic, and enhanced focus on rebounding battles in the paint make playing defense a way of life. Defense wins championships and in LIVE 2004, defense has caught up with the offense.
Build a Dynasty: Revamped EA SPORTS Dynasty mode allows you to import your top college players?run your franchise the way you want in order to build the perennial NBA champion.
Customize Your Game: Customize gameplay with a multitude of AI sliders that allow players to tune the game?s feel.
EA SPORTS Online Competition: One-on-one play is now available for online play along with a richer set of user stat tracking.
Championship Graphics: With player models redone from the ground up, this is the most visually immersive NBA game to date. Feel like you?re sitting courtside with improved player renders including details as fine as the mesh holes in your team?s jerseys.
New Announcer Team: No voice says NBA basketball more than Marv Albert, the most recognizable announcer in the game. Mike Fratello, ?The Czar of the Telestrator,? teams up with his on-air partner to provide the most authentic play-by-play commentary available.
Old School: Play with historic teams in classic arenas to explore the NBA?s history. Lace up with the Bulls of the ?90s, the Celtics and Lakers of the ?80s and take to the parquet floor of the old Boston Garden and other vintage NBA arenas.
Authentic Arenas: Take your game to any NBA arena, all of which are fully rendered to their finest detail to include championship banners, retired jerseys in the rafters and more. Referees and courtside photographers add to the genuine game-day feel.
EA SPORTS Bio: Memory card based tracking/rating system recognizes and rewards gamers for playing multiple EA SPORTS titles.