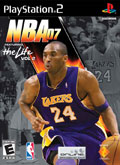 TITLE NBA '07
GENRE Sport
PLATFORM PS2
DEVELOPER SCEI
US PUBLISHER SCEA
UK PUBLISHER N/A
NORDIC PUBLISHER N/A
ONLINE PLAY Yes
Media Screenshots:
SCREENS ADDED: 09 May-2006
Official Fact Sheet:
An all-new Smart Shot Indicator provides a visual gauge of the impact defense has on shot opportunities, and a new Power Boarding System is now in place to offer a true 3D approach for players to position themselves for rebounds. Additionally, NBA ?07 includes refined core gameplay elements including new mechanics for stealing, passing, and shot selection as well as more intuitive Artificial Intelligence (AI).
Officially licensed by the NBA, more than a dozen mini-games are available in NBA ?07 including favorites such as 21, Own the Court, and 3-Point Shootout. ?Showtime Gameplay? returns, providing players the opportunity to manage and balance a variety of game time elements including temperamental crowds, eager teammates, and individual basketball skills. With online access to compete in a variety of leagues and tournaments, EyeToy? functionality, and an all-new soundtrack, NBA ?07 is prepared to deliver the most realistic professional basketball experience available – on and off the courts.
The Life: Volume 2 ? Go behind the scenes in this unique mode to experience the life of an NBA professional ? this time as the league?s star player.
True NBA Experience ? Gamers will once again be exposed to successes and failures of an NBA career including injuries, press conferences, endorsements, and other major events that come with being a franchise athlete.
Two Playable Characters ? Play from the perspective of both The Kid and Big W as the story of their rivalry unfolds. Each character is confronted with personal conflicts in their careers that highlight the glory and anguish of their NBA stardom.
MVP Race ? Challenge Big W for MVP honors. Based on skill progression and head-to-head match ups, Kid and Big W will move up or down the MVP Race list.
Unlockable Gameplay ? Players completing The Life: Volume 2 with a created character will unlock the ability to play the post season again as Big W, providing new scenes and a different gameplay experience.
Compelling Storyline ? Delve into a deep story where each player has a different experience and takes a different path as they progress through the league. A variety of mini-games, drills, and clutch-win scenarios help players build experience levels, expanding their skill sets and overall attributes.
Character Development ? Balance interaction with coaches, agents, teammates, family, and rivals. Perform well on the court and get rewarded with endorsements.
Film Production Quality ? Utilizing movie industry film/camera direction, script development, professional voice talent, and a film-like musical score, NBA ?07 continues the immersive cinematic experience within the game.
New Power Boarding System ? Players can now experience the most realistic rebounding system ever. Based on shot trajectory and bounce off the rim, this new mechanic allows players to realistically position themselves in regard to where the basketball will be once it bounces off the rim or backboard.
New Smart Shot Indicator ? A clear visual cue as to shot probability based on defensive effort. Tighter defense will result in a low-level indicator while soft defense will encourage players to fire away.
Enhanced Gameplay and A.I. ? In addition to rebounding and shooting, each of the core fundamentals of gameplay has been improved including passing, dribbling, defending, and steals. Additionally, AI has been revamped to improve individual and team defense as well as balance in ?The Life? mode.
More Than A Dozen Mini-Games ? Players can test their skills in one player, versus, and online modes including:
Own the Court ? Rack up the most points possible in a two-minute drill of shots from various sections of the floor.
Shout Out ? Coaches will ?shout out? special moves, dunks, and shots to execute and gamers will attempt each one as they are called.
21 ? Gamers can play a straight game of ?21? with up to two other opponents.
Exclusive PlayStation Skills Challenge ? Players can hone their passing, dribbling, and shooting skills in mini-game challenges and competition.
More Online Gameplay Depth ? Compete in a variety of online tournaments and head-to-head action or just build a player in Epic Mode through online competition.
Showtime Gameplay ? Players will be challenged to manage the game, including team involvement and individual achievements as well as coaches, crowds, and agents.
Control the game: Utilize a risk/reward system to execute increasingly difficult moves, earning Showtime points that boost attributes for individuals and the team.
Control the arena: Experience the raw energy of being on an NBA floor by influencing the crowd with a combination of Showtime moves and teamwork.
Passing system: No-looks, alley-oops, behind the back ? passing options are nearly limitless. Successful passes lead to highlight-reel baskets while failure leads to turnovers, team dissension, and a hostile crowd.
EyeToy Functionality ? Fans of basketball videogames can literally get in the action by taking a snapshot and putting their face on an NBA player utilizing the EyeToy USB camera for a network-ready PlayStation 2 system (sold separately).
Character Fidelity Engine ? NBA ?07 delivers a unique signature 3D look for each character including everything from facial mapping, head shape and size to hairstyle, expressions, disposition, features, skin, and eyes.
SoundTrack ? With a movie-like score for the story mode and new original music for in-game action, NBA ?07 will host a soundtrack to match the drama and excitement of the game.