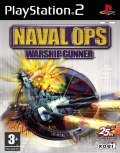 TITLE Naval Ops: Warship Gunner
GENRE Simulator
PLATFORM PS2
DEVELOPER Micro Cabin
US PUBLISHER KOEI
UK PUBLISHER TECMO KOEI Europe
NORDIC PUBLISHER TECMO KOEI Europe
ONLINE PLAY No
Media Screenshots:
SCREENS ADDED: 28 Oct-2006
Official Fact Sheet:
The gameplay in Warship Gunner involves two unique phases: design and battle. At the start of the design phase, players are given a mission briefing. Based on the mission?s objectives, players can construct or retrofit their ship with weapons, a propulsion system, aircraft, and defensive hardware. At this stage, players can also invest in new technology, develop new weapons, or purchase parts. Players can also bypass the process of ship design, and proceed directly into battle using ships based on actual naval craft.
Warship Gunner offers a complete array of weapons: from the mighty guns of World War II to present day weapons systems, 200 types of aircraft, and even an arsenal of the future. Reference information about naval weapons, ship design, and military aircraft is readily available to the player. Furthermore, all ship components are assembled to depict a complete, highly detailed 3D model. The warships going into battle appear with the same exacting detail of the player?s original design.
The battle phase puts player?s real-time combat skills to the test. Players must engage surface vessels and aircraft, destroy communications garrisons, and avoid high-G anti-ship missiles. Combat missions can take place around the clock making nighttime attacks a strategic option. While barrages of artillery and missile attacks are only part of the danger, dense fog and heavy storms are just some of the other conditions that players must contend with. For help, players can rely on fully integrated combat systems providing complete situational awareness, and access to all weapons systems.
Warship Gunner?s real-time battle system provides a high degree of freedom and allows players to switch between three perspectives for the most effective vantage point. The ?Short Range Battle? view is a third-person perspective of the player?s ship. The ?Lock On? view is used for long-range bombardment campaigns, while the ?Defensive? view is used to keep tabs on enemy ships, torpedoes, and mine-dropping aircraft.