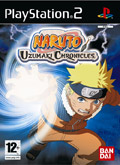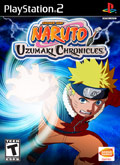 TITLE Naruto: Uzumaki Chronicles
GENRE Fighting
PLATFORM PS2
DEVELOPER Namco Bandai
US PUBLISHER Namco Bandai
UK PUBLISHER Namco Bandai
NORDIC PUBLISHER Namco Bandai
ONLINE PLAY No
Media Screenshots:
SCREENS ADDED: 14 Nov-2006
Videos:
Official Fact Sheet:
NARUTO: Uzumaki Chronicles introduces a lush, never-before-seen 3D world that will test the players' Ninjutsu skills as Naruto, the feisty orphan who wants to become the most respected and admired ninja of all time. A brand new story drives the missions as players experience the trials and tribulations of a ninja-in-training – fierce competition from fellow students and constant challenges from their teachers. Players can collect status-boosting chips and plates to customize all aspects of Naruto's abilities and face-off against multiple enemies using either close combat moves or long-range weapons like shurikens and explosive cards. With familiar characters like Kakashi, Sasuke and Neji that can swoop in for assistance, "NARUTO: Uzumaki Chronicles" offers mini-games and lethal attacks straight from the popular anime series to satiate any aspiring ninja.
Original Storyline: Go beyond the Naruto world you know with an original storyline and full 3-D action that will test your ninja skills as you strive to become the ultimate Hokage.
Strategy-based Character Customization: Acquire special Chips and Plates that customize all aspects of Naruto, including speed, strength, stamina and even special moves. The combinations are virtually limitless, each one resulting in new skills and abilities for Naruto that can give you the upper hand in the heat of battle.
Story-driven Missions: Experience the life of a Leaf Ninja through dedicated training and intense challenges that will aid you in your quest to become the greatest Hokage of all.
Lethal Attacks and Combinations: Harness the power of Ninjutsu, Nine-Tailed Fox Spirit and other moves, straight from the series! Unleash your chakra for deadly attacks or combine attacks to create new moves.
Multiple Methods of Battle: Face off against multiple enemies using either close combat ninja skills or long-range weapons. A variety of items including shurikens and explosive cards are at your disposal.
Unique Partner Assist: In true Leaf Ninja fashion, work together with your team, including Shikamaru, Neji, Sasuke and Choji to complete your missions and when the timing is right, take control to acquire their unique moves.
Mini-games and much more!: Practice makes perfect, so train hard and hone your skills through a variety of mini-games. New weapons, unlockable moves and countless customization options to control Naruto's abilities will enhance replay value.