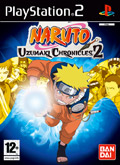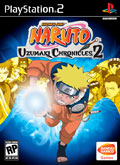 TITLE Naruto: Uzumaki Chronicles 2
GENRE Fighting
PLATFORM PS2
DEVELOPER Namco Bandai
US PUBLISHER Namco Bandai
UK PUBLISHER Namco Bandai
NORDIC PUBLISHER Namco Bandai
ONLINE PLAY No
Media Screenshots:
SCREENS ADDED: 18 Jun-2007
Videos:
Official Fact Sheet:
A brand new tale arrives as Naruto faces different challenges to defend the Hidden Leaf Village and surrounding villages from the evil force trying to dominate it. An ancient organization, which was thought to have been disbanded, is alive and in search of orbs to resurrect a mechanical terror. It's now up to Naruto and all of the Hidden Leaf Genin to join forces with those of the Hidden Sand Village to stop this menace.
New Original Adventure – Explore the Naruto world with a brand new story line that can only be experienced through NARUTO: Uzumaki Chronicles 2
Multiplayer Co-op and Vs Battles – During the game, a second player is able to join in on the action for a simultaneous two-player adventure! Or, fight head-to-head with a friend and battle it out for the title of Hokage.
Multiple Modes of Play – Additional gameplay modes further enhance the Naruto experience:
Story Mode – Play alone or with a friend and traverse a lush, 3-D anime-style world in which Naruto and his friends work together to unravel the mystery of the Shirogane Clan and their nefarious army of "puppet walkers." Hone your skills to become the ultimate warrior and unlock a secret chapter of the story.
Mission Mode – Take on a series of challenging side missions.
Survival Mode – Test your skills to become the ultimate warrior and unlock a secret mission.
Multiple Playable Characters – Choose your favorite ninja, including Naruto, Shikamaru, Rock Lee, Kakashi, Guy, Sasuke, or Choji, to complete story-driven missions and intense challenges.
Character Customization – Prove yourself in battle and earn money to create the ultimate warrior using Chips and Plates that can customize your character's speed, strength, stamina and even special moves.
Lethal Attacks and Weapons – Harness the power of Rasengan, Lightning Blade, Sand Coffin, and other moves, straight from the series!