PS2 Games
Gran Turismo Concept 2002 Tokyo-Geneva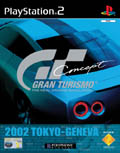 TITLE Gran Turismo Concept 2002 Tokyo-Geneva
GENRE Racing
PLATFORM PS2
DEVELOPER Polyphony D.
US PUBLISHER N/A
UK PUBLISHER SCEE
NORDIC PUBLISHER SCEE
ONLINE PLAY No
Media Screenshots:
SCREENS ADDED: 19 Mar-2005
Official Fact Sheet:
A highly accessible addition to the GT franchise set to broaden the appeal of the series, GT Concept is aimed at those who may find the investment of time and skill necessary to get the best out of the full Gran Turismo experience slightly daunting. It therefore abandons Gran Turismo Mode in favour of an instant-fix, arcade approach, which ensures that even the most inexperienced gamer can jump straight behind the wheel and accelerate away.
This doesn't mean that corners have been cut. If anything, many of the features of Gran Turismo 3 have been improved upon, with minor gameplay and graphical tweaks – until you've seen a car in Gran Turismo, you won't believe how good they can look in a game. And the whole game has been put together with the perfectionism and attention to detail that millions of petrol-heads now automatically associate with the Gran Turismo series.
It also means you still get the enormous variety of cars to drive that you've come to expect, with close to a hundred models to choose from, contributed by major manufacturers from Japan, Europe, Korea and the USA. In keeping with the game's title, however, a number of them are concept cars, of the type normally only seen at motor shows – the kind nobody usually gets to drive. As well as the awe-inspiring concept cars, there is the usual range of production models, as well as race-developed variations, full-on racing cars, rally cars and fantasy models.