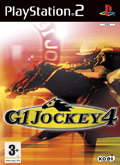 TITLE G1 Jockey 4
GENRE Sport
PLATFORM PS2
DEVELOPER KOEI
US PUBLISHER N/A
UK PUBLISHER TECMO KOEI Europe
NORDIC PUBLISHER TECMO KOEI Europe
ONLINE PLAY No
Media Screenshots:
SCREENS ADDED: 31 Jan-2006
Official Fact Sheet:
G1 Jockey 4 lets you take the reins and experience the feeling of being a top racehorse jockey. This fourth game in the hugely popular series introduces a new ranking system and abilities, as well a revolutionary analogue control system that gives you the most realistic horseracing experience yet. From the massively improved environments and animation, to the introduction of horse breeding, G1 Jockey 4 is a game that any true horse racing fan will revel in.
Beginning as a rookie you can compete in a variety of thrilling races and strive to improve your skills and thus gain access to better racehorses. You can choose how you want to progress, go for short-term goals such as raising your rank and winning prizes, or aim for the top and secure your place as a horse racing legend.
Revolutionary Analogue Control System
G1 Jockey 4 breaks new ground with an all-new analogue control system that uses the PS2's analogue sticks to simulate reins. Holding the reins in one hand while using the whip with the other, pacing yourself for a last burst of power in final stretch, or using both hands to make small adjustments to your course ? all of these are possible with this new control system. The challenge and fun of real jockeying are yours to experience first-hand.
Controller add-on
The revolutionary controller add-on clips neatly over both analogue sticks on the PS2 controller. This will then enable the player to co-ordinate their analogue stick movements much more precisely and thus gain an even greater level of control over their horse and greatly enhance their race winning prowess.
New Ranking System
To become a top jockey, you'll have to face many challengers in intense races, and gain acclaim in the horseracing world. With G1 Jockey 4″s ranking system, you'll be able to see how you rank with horse trainers and fans. By winning races, you'll not only increase your skill, but also gain renown in the racing world, which can lead to bigger opportunities and better racehorses.
All-New Horse Breeding Feature
G1 Jockey 4 features an all-new mode that lets you breed a horse and train it to be a prize-winner. Over the course of a year, you'll spend weekdays training your horse in a variety of ways. Experience the joy of winning a race with a horse you reared yourself!
Even if this is your first time playing a G1 Jockey game, you'll get up to speed in no time with the Tutorial mode. A series of lessons will give you hands-on instruction on how to become a winning jockey.
Join another jockey and compete in the split-screen two-player mode.
In this game, the various skills of a jockey get the spotlight, and the difference between a rookie and a top jockey will quickly become apparent during the race. As the race develops, there is always a risk of driving your horse at too high a pace, or holding back too much. Finding the winning balance is the key to victory.