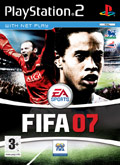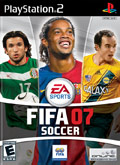 TITLE FIFA 07
GENRE Sport
PLATFORM PS2
DEVELOPER EA Sports
US PUBLISHER Electronic Arts
UK PUBLISHER Electronic Arts
NORDIC PUBLISHER Electronic Arts
ONLINE PLAY Yes
Media Screenshots:
SCREENS ADDED: 04 Aug-2006
Videos:
Official Fact Sheet:
From the first whistle of the season to heartbreak of cup failure, FIFA 07 throws you into the rollercoaster ride of a football season, has your team got what it takes to win the league or will they bravely battle relegation – its all up to you.
Relish every scintillating victory over bitter rivals and fume through every gut-wrenching poor performance at home. Savour the spine-tingling stadium atmosphere, home and away, as your team battles their way up the league table. Listen as your supporters chant your players? names and bellow all the rousing club songs through rain and shine.
You have the power to shape your club?s destiny in the EA SPORTS? Interactive Leagues [F.A. Premier League, Bundesliga, French League, Mexican 1st Division], a new online mode that enables you to pit your club against supporters of your real-world opponents. Play your games according to the real-world schedule. When they play, you play. Track your team?s progress as the aggregate results determine your club?s position in the league table. Now you actually take to the pitch for the glory of your club.
New intelligent AI ensures that your 11 men on the pitch make realistic decisions, finding space and passing like professionals. A complete overhaul of the game engine now means that you have to employ real world tactics, make realistic decisions and think like a player in order to win matches.
Take on the updated and improved challenge of the Manager Mode. Player values and wages have been tuned to be even more realistic. Managerial decisions have even more tangible effects on player performance and welfare. Smarter CPU decisions mean rival managers are even more strategic in their own pursuit of silverware.
FOOTBALL EMOTION: The crowds react to your performance. Goals and possession result in rousing chanting as momentum builds for your team but dips to a frustrated murmur if you?re struggling. The camera focuses on those players who wear their emotions on their sleeve.
EA SPORTS Interactive Leagues: Represent your club online against your rivals throughout the season in the F.A. Premier League, Bundesliga, French League or Mexican 1st Division. When they play, you play. Win and drive your club closer to glory. Lose and see your team plummet to the bottom of the table. Weekly podcasts include user interviews that broadcast your glory to the world.
IMPROVED GAMEPLAY: Passing and positioning have all been enhanced. Players jostle and collide realistically while trying to win balls. New ball physics accurately recreate bouncing, skidding and topspin. Signature moves and playing styles for the stars have been authentically captured.
SET PLAYS:: Use the left analog stick to apply topspin or backspin to the ball for more creative set plays and finesse shots.
NEW SHOOTING MECHANICS: Experience a more sophisticated shooting mechanic that gives you greater control for pin-point accuracy.
ADVANCED GOALKEEPER AI: Goalkeeper intelligence is authentic, with true-to-life reactions and a greater variety of deflections and saves.
ENHANCED MANAGER MODE: Everything is real. Real money, youth player development, press and fan reaction. Immerse yourself completely in the world of a football manager. New this year ? create your own club.
SOCIAL GAMING:Play against up to eight friends in the FIFA 07 LOUNGE to determine your champion. A new handicap system levels the playing field in the ultimate pursuit of bragging rights.
COMPLETE AUTHENTICITY: FIFA 07 features 27 leagues from 20 nations. Over 510 teams are accurately represented with correct kits and badges.
ONLINE EVERYWHERE: Never again miss any news with the ultimate sports ticker. While online, breaking news, live scores and results are delivered straight to your screen, 24/7.