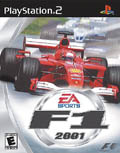 TITLE F1 2001
GENRE Racing
PLATFORM PS2
DEVELOPER EA Sports
US PUBLISHER Electronic Arts
UK PUBLISHER Electronic Arts
NORDIC PUBLISHER Electronic Arts
ONLINE PLAY No
Media Screenshots:
SCREENS ADDED: 13 Mar-2005
Official Fact Sheet:
Battle for position at every sweeping bend, high-speed straight away, and hairpin turn within the worlds most glamorous sporting arena. From Monaco to Monza, take on the most intelligent and daring racers to hit the Formula One circuit. The circuit comes to life with fully interactive pit stops, roaring crowds, a buzzing grid, driver animations, and a full spectrum of driving conditions, including torrential downpours and other mid-race weather changes. Add the official 2001 FIA Formula One World Championship license and F1 2001 is poised to reach new milestones in motor sports gaming.
Artificial intelligence with authentic driving styles and tendencies: Gamers race against opponents who want to win as badly as they do. Every driver on the track will fight, battle and react to maintain position, while constantly looking for the next opportunity to overtake, creating an intense racing experience.
Dynamic, living environments: F1 2001 takes the driver into a living, breathing Formula One world as anticipation builds up on a buzzing grid. The gamer will enter the ultimate racing experience, whether surrounded by team personnel and engineers, passing flag bearing marshals at the trackside warning drivers of upcoming danger, creating breathtaking collisions, or passing an opponent as the crowd waves and screams.
Realistic weather model: The driver witnesses the race come alive under adverse weather conditions. As rain clouds hover, umbrellas go up and pit crews radio weather updates. Rain causes opponents to spin off the track, crash into barriers, and rush to the pits to switch tires and change strategy.
Pit crew-to-driver radio communication: Race engineers communicate with the gamer, giving the driver information on competitors? performance and position though ?Intelligent? Pit Communication.
Official 2001 season content: All the drivers, tracks and teams from the official FIA 2001 Formula One World Championship. Race against elite drivers of the current season including Juan-Pablo Montoya and Kimi Raikonnen.
Beyond broadcast presentation: Gamers relive the defining moments of each race as key events are edited to provide a dramatic highlights package featuring director, curb, onboard, cockpit, and swingman cameras.