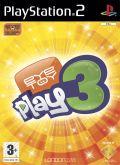 TITLE EyeToy: Play 3
GENRE Entertainment
PLATFORM PS2
DEVELOPER Zoe Mode (Kuju)
US PUBLISHER SCEA
UK PUBLISHER SCEE
NORDIC PUBLISHER SCEE
ONLINE PLAY No
Media Screenshots:
SCREENS ADDED: 19 Sep-2005
Official Fact Sheet:
The content has been carefully crafted to include a huge range of activities across multiple genres including sports, action and music, as well as a collection of whacky multiplayer party games that'll get the whole family playing together at the same time! Below is a small sample of what's in store:
Beach Volleyball: Spike your way to the top in a four player multiplayer game or against the local resident beach bums. Special modes include the hilarious speed rally.
Bowling: Hit the alley in this bowling bonanza! Play a traditional game of 10-pin, or go crazy bowling balls at the 'marching pins' in a unique knockout mode. The game also features a tournament for up to 4 players so you can really see who's the 'King Pin'.
DJ: Scratch the decks and entertain the crowds! Watch out for the club lights and 'hi fives'. This game will have you mixing with the best . . . How "bling" can you get?
Be the Band: Take the whole family to the stage and play one instrument each! Try your skills at guitar, drums, trombone, keyboard and…well, be the band! Poor playing will result in a poor show so keep in synch!
Hair Salon: Ever thought you could manage a busy day at the salon? In this hair-raising game, you're let loose to cut, style and design some weird and wonderful bouffants. Remember, your customer must like their new-look or there could be tears!
Boot Camp: Take hold of your nerves, and your stamina as you enter into this action-packed Boot Camp. Led by the fearful Sergeant, follow orders or face discipline, soldier! It's 'Sir, yes Sir' all the way as you take on training exercises and agility courses… you'll be whipped into military shape in no time!
Party on: Get physical in this crazy collection of micro games, designed for a four player extravaganza. Hilarious activities include: bell ringing; shark swimming; balloon blowing and the weirdly wonderful, 'Kitty Loves Me'!
The Playroom: The playrooms are back with a whole new range of crazy innovations. In true EyeToy fashion, the playroom experience provides open-ended fun and zaniness that will leave your mind boggling!
Couple all these with cheeky audience participation and the innovative face mapping feature that lets you put your friends' faces in the game, and EyeToy: Play 3 is set to continue leading the way in the EyeToy revolution. More information will be released soon on other mini games including 'Music Conductor', 'TouchDown', EyeToy Athletics, Crime Wave…oh, and beware, it's rumoured that ghosts are back in town!
With games to suit every member of the family, and the possibility to create your own rules, EyeToy: Play 3 is energetic and thrilling entertainment where YOU get to be the star of the game.