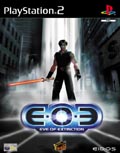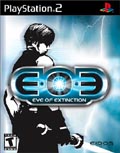 TITLE Eve of Extinction
GENRE Action
PLATFORM PS2
DEVELOPER YUKE'S
US PUBLISHER Eidos Interactive
UK PUBLISHER Eidos Interactive
NORDIC PUBLISHER Eidos Interactive
ONLINE PLAY No
Media Screenshots:
SCREENS ADDED: 13 Mar-2005
Official Fact Sheet:
The player takes on the role of Josh Calloway, an employee of the multi-national conglomerate Wisdom Inc. a pioneer in the genetics industry. Josh discovers that Wisdom?s true purpose it to create a deadly weapon capable of mass destruction – The Legacy – by fusing the essence of a human soul with a crystal. Upon learning of his employer?s evil intent, Josh flees with his girlfriend Eliel Evergrand, but they are captured and Eliel?s soul is forced to become the core of the most powerful Legacy made to date. Sworn to stop Wisdom at all costs, Josh embarks on an epic struggle to save his girlfriend and stop a madman from destroying the world.
Go berserk in a free roaming real time 3D action adventure game involving close combat and puzzle solving.
Master 10 different weapons including the Tonfa, Rod, and Snake Sword.
Unleash killer combination moves for each weapon by accumulating fighting experience.
Switch weapons in the middle of combination attacks to maximize damage to your enemies.
Bring the bad guys down to their knees by initiating special attacks such as Time-stop, Fire Flame, and Lightning Rain.
Smooth and realistic fighting animations simulated with motion-captured technology.
Heart-stopping, action-packed quick time events in each level.
Use your multifaceted weapon to overcome obstacles, enemies, and puzzles.
Travel through various locations, ranging from the streets of New York to the ancient Mayan ruins in South America.