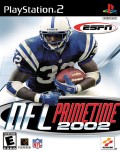 TITLE ESPN NFL PrimeTime 2002
GENRE Sport
PLATFORM PS2
DEVELOPER FarSight Studios
US PUBLISHER Konami Digital Entertainment
UK PUBLISHER N/A
NORDIC PUBLISHER N/A
ONLINE PLAY No
Media Screenshots:
SCREENS ADDED: 13 Mar-2005
Official Fact Sheet:
ESPN NFL PrimeTime 2002 brings the game to the fan as only the Worldwide Leader In Sports can–by capturing all of the precision passing, dazzling catches, bone crushing tackles, and hardcore action of Americas favorite Sunday pastime. Featuring in-depth and humorous analysis from renowned ESPN broadcasters Chris Berman and Tom Jackson, and endorsed by Indianapolis Colt Pro Bowl running back Edgerrin James, ESPN NFL PrimeTime 2002 combines the wit and insight of ESPN with amazing 3-D graphics, smooth animations, and fluid gameplay.
Feel The Power of the NFL – – Five unique gameplay modes allow gamers to get the full NFL experience. Play an entire regular season, build a team from the ground up and pull the trigger on blockbuster deals in the GM mode, customize play in the tournament mode, hone skills in the practice mode and create the next ?Rudy? in the enhanced create-a-player mode.
Its Primetime? Primetime?Primetime With Full-ESPN Integration – – From pre-game hype to post game interviews this game has it all. In addition to Chris ?Boomer? Berman and Tom ?TJ? Jackson in the booth, ESPN NFL PrimeTime 2002 has authentic ESPN graphics, in-depth statistical analysis from the ESPN research department, and even a bottom of the screen sports ticker.
Pro Bowl Endorsement (Need more Info)- – ESPN NFL PrimeTime 2002 is endorsed by two-time Pro Bowler Edgerrin James of the Indianapolis Colts.
Play The Game The Way You Watch It – – ESPN NFL broadcast camera angles, ranging from behind the quarterback to deep in the endzone, lets players change to a variety of views during the course of the game.
Not Even Bill Parcells Could Create Plays Like These – – ESPN NFL PrimeTime 2002s play editor allows gamers to customize their playbooks in order to create and save sets of offensive and defensive plays. Additionally, the QB/Receiver logic allows the newly created plays to come to life as players throw the ball before the receiver even makes the cut.
Graphics So Realistic You will Be Blown Away – – In addition to true three-dimensional depth with life-like polygonal players and realistic environments, ESPN NFL PrimeTime 2002 pays attention to the most minute details ranging from coaches pacing the sidelines to dirt accumulating on players jerseys.
In Your Face Super Bowl Extravaganza ? ESPN NFL PrimeTime 2002 gets hands-on this year with the Edgerrin James ?NFL Experience? Super Bowl promotion and sponsorship of the NFL Lineman Challenge to support the marquee title during the Leagues marquee event.