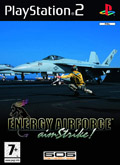 TITLE Energy Airforce: Aim Strike!
GENRE Simulator
PLATFORM PS2
DEVELOPER Taito Corporation
US PUBLISHER N/A
UK PUBLISHER Namco Bandai Partners (Atari)
NORDIC PUBLISHER Namco Bandai Partners (Atari)
ONLINE PLAY No
Media Screenshots:
SCREENS ADDED: 18 Sep-2005
Official Fact Sheet:
Energy Airforce: Aim Strike! sees players take on the role of the pilot and not the plane in a breathtaking air combat simulator developed in conjunction with aerospace industry giant Lockheed-Martin and several air force self defense divisions. An ultra realistic graphics engine guarantees faster, bigger, and better action than it's predecessors, and tasks such as fuelling, boarding and take off are seamlessly combined giving the whole mission the realism of starting from the moment the pilot is ready to take off.
With the Lockheed Martin license, players begin the game with the versatile F-16 Fighting Falcon and go on to unlock a substantial hangar of different aircraft. To fly new aircraft, a license must be earned by completing a series of tests in the License mode. Mastering new techniques and utilizing the particular qualities of different aircraft opens up a variety of new options. Energy Airforce: Aim Strike! also includes intelligent wingmen for each mission whose plane can be chosen depending on the kind of assistance the player requires. The player must also command wingmen, directing them according to the circumstances of the mission.
PUD-J5A compatibility allows players to look around the cockpit allowing for a truly first-person perspective.
The game features the Lockheed Martin license and planes available include the F-22 Raptor stealth fighter, F-35 V/STOL fighter, F-117 Nighthawk, U-2, C-130, SR-71, and Rafale among others.
Photo-realistic cockpits and real engine sounds are recorded from several aircraft to provide an ultra realistic experience.
Detailed graphics, satellite mapping and aircraft performance data capture adding to the feeling of "live action".
Game modes include Licesnse mode, Campaign mode, Hangar mode, and Arcade mode.
New missions include Air Patrols, Aerial Interceptions, and Overcoming Enemy Defense.