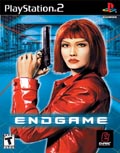 TITLE Endgame
GENRE FPS
PLATFORM PS2
DEVELOPER Empire
US PUBLISHER Empire Interactive
UK PUBLISHER Empire Interactive
NORDIC PUBLISHER Empire Interactive
ONLINE PLAY No
Media Screenshots:
SCREENS ADDED: 13 Mar-2005
Official Fact Sheet:
The world has finally succumbed to the once-lauded technology of Virtual Reality. Young and old, rich and poor now use this technology for leisure and business. No one need leave the comfort of their homes. The dividing line between reality and computer generated immersion has been blurred. Forever.
But it was not meant to be like this. EuroDream were there for the good of the people. Their immersion technology was state-of-the-art, as good as it gets. It was meant to be fun. It was meant to be life changing. For Jade, it was a little too life changing.
You take on the role of Jade. Jump into a sophisticated plot involving corruption, deceit and adventure. EndGame features multiple endings depending on the players skill when navigating through the game. Prove your worth as a sharp shooter and you will enter Hypermode? where everything moves in supertime. Intelligent opponents, governed by sophisticated AI routines, provide difficult and constantly shifting challenges.
20 real world levels spread throughout Europe – from London and the Channel Tunnel to alpine cable cars
Fast-moving dynamic cameras, motion blur, anti-aliasing, focus effects and 3D audio lend a sophisticated "cinematic" quality to the action
Next-generation laser-scanning of a real actress means that Jade will stand out from the crowd, even though she might simply want to blend in!
Compatible with all available light guns, including the G-con 2