PS2 Games
D.I.R.T. (AKA D.I.R.T.: Origin of the Species)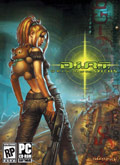 TITLE D.I.R.T. (AKA D.I.R.T.: Origin of the Species)
GENRE Action
PLATFORM PS2
DEVELOPER Nu Generation
US PUBLISHER Tri Synergy
UK PUBLISHER Deep Silver
NORDIC PUBLISHER Deep Silver
ONLINE PLAY TBA
Media Screenshots:
SCREENS ADDED: 18 May-2005
Videos:
Official Fact Sheet:
A fast paced action adventure title, set across 14 levels; players take on the role of DIRT, an unlikely heroine with a shadowy past. From the deserts of Nevada, to secret government research facilities, DIRT faces near unstoppable opposition. RPG Lite 'Play as you want' system allows the player to experience each level from their preferred style, Stealth, Aggression, Exploration or Sharp Shooting. Multiple offensive and defensive moves make DIRT a resourceful character in a fight, with over 20 weapons to level at her foes. A teen chic with attitude – God help the opposition.
Hardcore action meets RPG featuring Nu Generation's RPG Lite technology to produce an unobtrusive, straight forward and ultimately rewarding character enhancement system.
Over 10 special offensive and defensive moves to choose. Use these on their own or combine them with traditional blasting to produce wild new emergent game play styles and innovative new combos.
Traditional blasting fans will not be disappointed either, with close to 20 traditional weapons from 9mms to S.M.G to R.P.G to Rail Gun, Pheromone gun and Graviton beam.
Fast and flexible movement system tailored for combat game play. The game features compact and dynamic dodge moves as well as traditional jump and double jump.
Interact and save the NPCs in the game world with compelling risk Vs reward stakes to earn extra information and abilities.
Rigid body dynamics, rag doll and vehicles are all accounted for in the realistic physics engine that drives the "DIRT" game world.
Fight a vast array of mutated abominations, as well as Black Op Marines and their arsenal of weapons.