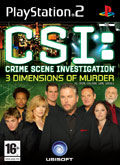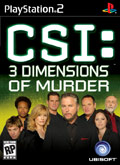 TITLE CSI: 3 Dimensions of Murder
GENRE Adventure
PLATFORM PS2
DEVELOPER Telltale Games
US PUBLISHER Ubisoft
UK PUBLISHER Ubisoft
NORDIC PUBLISHER Ubisoft
ONLINE PLAY No
Videos:
Official Fact Sheet:
Join the famous CSI team in Las Vegas and investigate 5 all new cases using the latest forensic science. Work along side Grissom, Catherine and the entire cast as you utilize the latest crime-solving equipment. To discover the truth behind the crimes, you must visit the scene, interview suspects and collect and analyze physical evidence. Use puzzle-solving and interrogation skills to establish a relationship between the suspect, the victim and the crime scene. Only then will you be able to make an arrest and resolve the case.
Investigate crime-scenes that are more like the hit TV show than ever. Move around the crime scene and get a close-up look. Feel like you are really using the tools for collection and detection of evidence and interact with the CSI cast like never before.
5 NEW cases with deeper plot lines with shocking twists: Players will be drawn into the action with improved character interaction and longer more immersive cases. The 5 new and distinctive cases will draw players in like never before.
NEW Mobile Crime Lab: Just like the hit TV show, CSI 3 Dimensions of Murder features the GMC Mobile Analysis Unit that can be used to analyze evidence quickly in the field.
NEW more satisfying evidence analysis: Players will really feel like they are solving the case, not like the computer is solving it for them. Use high tech tools to collect and process evidence such as, Mikrosil casting material, magnetic powder for enhanced finger print analysis and Luminol for detecting traces of blood evidence.