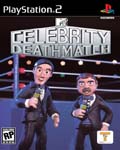 TITLE Celebrity Deathmatch
GENRE Fighting
PLATFORM PS2
DEVELOPER Big Ape
US PUBLISHER Gotham Games
UK PUBLISHER Take 2
NORDIC PUBLISHER Take 2
ONLINE PLAY No
Media Screenshots:
SCREENS ADDED: 16 May-2003
Official Fact Sheet:
MTV?s "Celebrity Deathmatch" lampooned popular sports and event coverage and featured all the pre-game and post-game activities of fights, such as one-on-one interviews, press conferences and hilarious moments in the locker room. The first "Celebrity Deathmatch" premiered in a fall 1997 episode of "Cartoon Sushi," MTV?s animated variety series. The singular bout was a fantasy fight between Charles Manson and Marilyn Manson who competed for the title of "Most Evil Man in America." MTV went on to debut a Super Bowl Half-Time special, "Celebrity Deathmatch Deathbowl ?98," featuring fantasy slugfests with Howard Stern vs. Kathie Lee Gifford, Pamela Anderson Lee vs. RuPaul and Hanson vs. The Spice Girls.
Characters take damage throughout fights and appear bruised, bloody, dented, deformed, or hacked apart.
Original Show hosts Nick Diamond and Johnny Gomez provide color commentary while ref Mills Lane calls the shots.
Each celebrity has their own unique moves suited to their personas. Special death moves allow players to finish off their opponents with an unbelievable dose of carnage.
Create-A-Celebrity allows players to make their own victim of fame.
A plethora of arenas, modes, characters, challenges, and unlockables keep the slaughter new and fresh time after time.