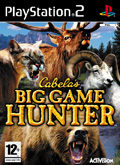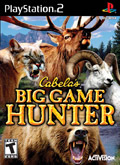 TITLE Cabela's Big Game Hunter
GENRE Hunting
PLATFORM PS2
DEVELOPER Sand Grain Studios
US PUBLISHER Activision
UK PUBLISHER Activision
NORDIC PUBLISHER Activision
ONLINE PLAY No
Media Screenshots:
SCREENS ADDED: 18 Mar-2008
Official Fact Sheet:
Go on your dream hunting adventure as you travel to the world's most prestigious hunting locations in pursuit of the most exotic and sought after big-game trophy animals. Put your hunting skills and techniques to the test in Montana, British Columbia, New Zealand, Africa, and Argentina. You'll need all the improved mechanics such as hunter's sense, adrenaline mode and stealth, to sight in and shoot elk, moose, red stag, mule deer, cape buffalo, caribou, cougar, wild boar, kudu, and grizzly bear. Master hunting strategies like glassing, stalking, tracking, long-range shooting, baiting, stands, and blinds. Beware of dangerous game that will threaten and stalk you until a final encounter where you must use your hunting skill to bring it down!
Advanced Animal Behavior – Game design and animal movement based on actual DNR research including sight, speed, daily routines, and feeding patterns for authentic game play action.
Special In-Game Features Include – Bullet-Cam allows you to see your shot travel to its destination, x-ray scopes so you can line-up the perfect shot, custom log cabin for your Trophy Room, plus an advanced scoring system, and much, much more.
Hunt All Over North America – You will be mesmerized by the detail and expansive landscapes in 32 different locations that accurately reflect the natural environments from Montana to west Texas.
Authentic Weapons and Gear – Your hunting experience will be complete as you choose from a wide selection of today's best-selling firearms, bows, scents, clothes, stands, blinds, plus ATVs, boats and a truck.