PS2 Games
Bujingai: Swordmaster (AKA Bujingai: The Forsaken City)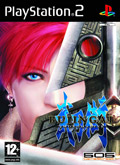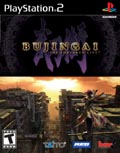 TITLE Bujingai: Swordmaster (AKA Bujingai: The Forsaken City)
GENRE Action
PLATFORM PS2
DEVELOPER Red Entertainment
US PUBLISHER BAM! Entertainment
UK PUBLISHER Namco Bandai Partners (Atari)
NORDIC PUBLISHER Namco Bandai Partners (Atari)
ONLINE PLAY No
Media Screenshots:
SCREENS ADDED: 01 Jan-2005
Official Fact Sheet:
In the 23rd Century, an attempt to develop a new source of energy has gone horribly wrong and 70% of the world's population is instantly wiped out. The survivors learn how to create energy from their own bodies, giving them superhuman abilities. The process of harnessing the power of these abilities is simply referred to as "Skill". For 400 years, the survivors transformed these abilities into a new and deadly fighting art.
Now at the dawn of a new age, simply called the Age of Skill, mankind is faced with a new threat. A rift into a demon dimension has been opened, unleashing hordes of fiends on an isolated island city in Asia.
One warrior, a master of Skill, travels to the city to combat this invasion. Armed with a pair of swords, and an arsenal of magic spells, Lau must combat the demons and try to rescue what's left of the survivors.
Furious, fast-paced fighting in the tradition of Hong Kong Cinema utilizing a deep, yet intuitive, multifaceted combat system
Employ sword combat and magic attacks, combined with acrobatics, gliding and wall walking as you fight multiple enemies. Chain attacks together for 100 hit combos!
Beautifully detailed graphics and fully interactive environments create an immersive atmosphere to draw the player into the action
Dozens of "unlockables", including new techniques and additional difficulty levels, new costumes, character profiles, models, video footage and more!