PS2 Games
Billy the Wizard: Rocket Broomstick Racing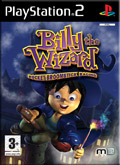 TITLE Billy the Wizard: Rocket Broomstick Racing
GENRE Racing
PLATFORM PS2
DEVELOPER Data Design
US PUBLISHER N/A
UK PUBLISHER Metro 3D
NORDIC PUBLISHER Metro 3D
ONLINE PLAY No
Media Screenshots:
SCREENS ADDED: 22 Oct-2005
Official Fact Sheet:
Hocus this and Pocus that, a flying broomstick and a Wizard's Hat! The sorcerer's ultimate challenge begins as you race alongside other wizards in the enchanting Broomstick Grand Prix.
Blast your opponents out of the skies with your special magical powers. Collect extra ammunition as you skim tree-tops and plunge under low bridges and archways. Find the rocket-power super-broom and thrust into first place leaving a smokescreen behind you to daze and confuse your enemies.
Its no fairytale when there's an evil force around. Use your magical spells to attack evil dragons that have taken over the skies above 'The Wizards Castle'. Aim carefully to destroy each segment of the monsters body before the castle is doomed. Collect extra health pickups as you avoid blasts from the traitorous Imps around the castle roof tops.
It's a rush against time! Use your broomstick skills to recover the flying runaway spell books that have escaped from the Library of Magic! Search high and low and take a shortcut though the narrow castle hallways, picking up crucial time bonuses as you soar at low altitude.
Fight for magical supremacy in the thrilling 'Orb Domination' levels and see who is the most skilled with a broomstick! Swipe the orbs from your opponents to claim a breath-taking victory.
Up to 8 magical wizard characters for you choose from. Unlock more complex and challenging levels as your broomstick handling skill progress, then hook up with up to 4 friends in the insanely addictive Multi-player mode. The magical adventure of a lifetime has arrived so grab your Broomstick and take to the Skies!
Race alongside other wizards in the enchanting Broomstick Grand Prix.
Blast your opponents out of the skies with your special magical powers.
Collect extra ammunition as you skim tree-tops and plunge under low bridges and archways.
Find the rocket-power super-broom and thrust into first place leaving a smokescreen behind you to daze and confuse your enemies.
Up to 8 magical wizard characters for you choose from.
Unlock more complex and challenging levels as your broomstick handling skill progress
Hook up with up to 4 friends in the insanely addictive Multi-player mode