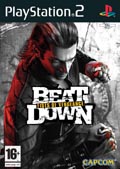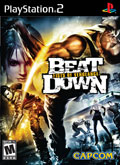 TITLE Beat Down: Fist of Vengeance
GENRE Action
PLATFORM PS2
DEVELOPER Cavia Inc.
US PUBLISHER Capcom
UK PUBLISHER Capcom
NORDIC PUBLISHER Capcom
ONLINE PLAY No
Media Screenshots:
SCREENS ADDED: 16 May-2005
Official Fact Sheet:
Beat Down: Fists of Vengeance puts gamers in the role of one of the five fugitives as they seek revenge against their foes. Betrayal comes at a high price and to survive in Las Sombras, you need power. With enemies everywhere, the only hope is to find the other four and build enough power to strike back. Using a low-key downtown bar as a hideout base, players will wander the town in search of information and add allies to their growing opposition. Taking different jobs around town will add much needed funds to fuel the growth of the posse. By proving themselves in street battles, effectively utilizing negotiation skills and using clever disguises, they will be able to build their influence on the mean streets. Soon no one will stand in the way of cold hard vengeance!
Up to five playable characters including:
o Raven ? a rough and tumble rebel with a short fuse and penchant for fighting
o Aaron ? the Machiavellian bastard love child of Zanetti, the head of the most powerful cartel in Las Sombras
Multiple gameplay options ? single and multiplayer modes
Open and diversified gameplay
o Give them the beat down and let your fists do the talking – you can engage anyone you meet in a fight!
o Use ?negotiation? tactics instead of brawling in order to recruit allies or build more funds for your cause
o Walk around town to get information on the whereabouts of the Zanetti cartel and police to avoid dangerous confrontations and possible arrest
o Use clever disguises to blend in, enter locations undetected, or masquerade as others ? keeping a lower profile will make it easier to proceed through the game
No holds barred street brawls ? punch and kick, use objects in the environment like pipes or bottles, break open crates and bins to reveal hidden weapons, or even smash opponents against cars, barbed wire and more!
Team management
o Make valuable allies and consider their individual characteristics to assemble the best team for each mission
o Make friends with the right people to gain valuable resources like cars, money, connections and more
Vast and dynamic environment ? a true living city with several distinct areas populated by AI characters, realistic urban buildings and streets
Technical enhancements ? incredible graphics, fully animated 3D characters, realistic sounds that echo during fights and distorted camera effects that reflect impacts sustained in battle
Multiple endings ? depending on which character you choose and how you play, there are different endings