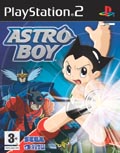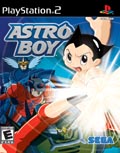 TITLE Astro Boy
GENRE Action
PLATFORM PS2
DEVELOPER Sonic Team
US PUBLISHER SEGA of America
UK PUBLISHER SEGA Europe
NORDIC PUBLISHER SEGA Europe
ONLINE PLAY No
Media Screenshots:
SCREENS ADDED: 12 May-2004
Official Fact Sheet:
Join Astro, the robotic superhero with a human mind, in a jet-fueled adventure to reunite the robotic race with humans. Working with Tezuka Productions and Sony Pictures Television, SEGA?s SONICTEAM studio has faithfully recreated the Astro Boy universe, lending authenticity to the franchise and paying homage to a classic icon of Japanese anime that is now a featured series on Cartoon Network.
Osamu Tezuka, who is known as the pioneer of Japanese animation and the ?father of manga,? created Astro Boy in 1952. Since then, Astro Boy has become one of the most recognized characters in Japanese animation and was the first Japanese animated television show shown in America. Airing in more than 40 countries and selling more than 80 million comic books and $3 billion in merchandise, the beloved character has amassed a global following that borders on cult status.
In Astro Boy, gamers use Astro?s Rocket Feet, Arm Cannon, 1,000,000-horsepower Strength, X-Ray Vision and other special abilities to help save Metro City. With each case solved, Astro?s skills develop; preparing him to face off against the strengths of Atlas, Acheron, the Blue Knight and more!
Live the excitement of Astro Boy by recreating the hit series through fast-paced side-scrolling 2D action
Earn skill points and develop super-abilities including 100,000-Horsepower Strength, Digibeams (laser-beam fingers), Arm Cannon, Rocket Feet, Shot Cannon and more
Build Astro?s Omega Factor; interact with more than 40 Tezuka characters who teach him about justice, compassion, evil, and courage
Multiple gameplay and story sequences build into 13 stages of battles, strategy, character interaction, locations and varied action