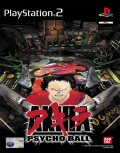 TITLE Akira Psycho Ball
GENRE Action
PLATFORM PS2
DEVELOPER Bandai Interactive
US PUBLISHER N/A
UK PUBLISHER Namco Bandai Partners (Atari)
NORDIC PUBLISHER Namco Bandai Partners (Atari)
ONLINE PLAY No
Media Screenshots:
SCREENS ADDED: 01 Dec-2005
Official Fact Sheet:
The year is 2019, 31 years after the total destruction of Tokyo in World War III. A new city called Neo-Tokyo has risen from the ashes in Tokyo Bay. Kaneda, the leader of a teenage motorcycle gang, was locked in combat with a rival biker group called the ?Clowns?. One night, Kaneda?s buddy Tetsuo was taken into military custody after encountering a strange boy who had been used as a guinea pig for human experimentation. Kaneda sneaked into the military?s research facility to rescue his friend. Once inside, he discovered that the military was using drugs to awaken a mysterious power within Tetsuo, and found many other experimental subjects confined in there as well. One of these subjects, a young girl, predicted the ?awakening of Akira?, the darkest secret of the military scientific program. And so Tetsuo began making his way towards this mysterious Akira, who was sleeping deep under the Earth?s surface?
Akira Psycho Ball is split across four challenging pinball machines each one based on a cult scene from the story of AKIRA. These tables can be subdivided into ?Duel Machines? and ?Variation Machines?.
Duel Machines are uniquely designed split sided tables where the goal is to get as many points as you can by making the other player lose their balls.
Variation Machines have three sub divided table sections that lock and rotate to create a different table each time. The goal is to clear nine different combinations of fields in order.
Story mode encompassing four stages direct from the cult Manga movie ? Neo Tokyo, The Laboratory, A-Room and Olympic Stadium.
Vs Play against a CPU or a pinball wizard friend and battle on the ?Duel Machines? ? 2 player battle tables set in Neo Tokyo.
Full licensed and true to the HUGELY popular Manga anime movie Akira.
Introducing ?Variation Machines? ? pinball tables that transform through interchangeable sections creating the ultimate pinball challenge.