Please note that many of our FAQs were originally published between 2001-2007. Minor details such as prices, products and details will be from the time the post was originally published. Some of the FAQs have been updated.
What is EyeToy? EyeToy is the name of the technology used to employ a USB camera as a controller interface. The EyeToy itself is an inexpensive Webcam that plugs into your PS2's USB port and sits on top of your TV. The EyeToy Camera has a tiny built in microphone so it comes with audio as well as video capability.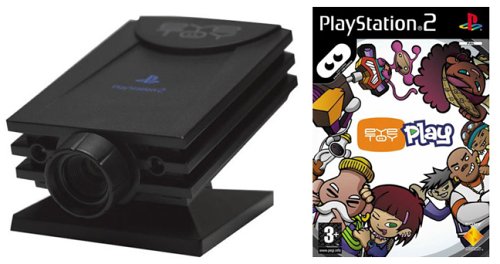 This new technology places players at the centre of a unique games experience – literally. For the first time players will feature live, on screen within the game and will be able to physically interact with and manipulate game-featured characters and environments. Based on real-time movement tracking to control the action this new technology will create an entirely new genre of games that are instantly accessible and will provide home entertainment for everyone.
Eyetoy technology is stunningly simple and instantly playable and delivers compelling entertainment for every member of the family. By linking the PlayStation 2 to a USB web camera via proprietary drivers; players can track hand and body movements and colour on screen in real-time via the PlayStation2, without any cables or peripheral attachments to hamper freedom of movement.
"An astounding piece of kit with games that will appeal to everyone from the hardcore gamer to the hardcore gamer's mum."- PSM2, August 2003.
With no delay or lag the PlayStation 2 displays an image on the television and enables players to truly interact with the gaming environment and characters on screen. In addition, the PlayStation2 enables 3D graphics to be laid over the 'live' video feed to allow game characters or special effects to interact with the player in the real world.
EyeToy developed by SCEE's Studio London, is the first gaming interface on the PlayStation 2 to use body movement as a control method. The camera technology will revolutionise gaming by allowing you to become immersed in games in a more liberating and interactive way.
There are a lot of people that are put off by the amount of buttons found on the joy pad. By using the camera, all players have to do is move around, wave their hands and use their body movement to interact with things on screen. Everyone knows how to stick their hands out, or wave them in the air.
List of Compatible EyeToy Games
EyeToy: Play
EyeToy: Groove
EyeToy: Antigrav
Sega SuperStars
EyeToy: Chat
EyeToy: Play 2
Nicktoons: Movin'
EyeToy: Monkey Mania
EyeToy: Kinetic
EyeToy: Play 3
EyeToy: Operation Spy
EyeToy Now & The Future
EyeToy has loads of potential online applications – especially in conjunction with the Network Adapter. For instance you will be able to use the EyeToy and PlayStation2 as means of talking to friends and family over a network. This is the essence of EyeToy: Chat – turn your PlayStation 2 into a videophone capable of communicating with other 'EyeToy: Chat' users by text, voice and video across the world.
It's no surprise that Studio London has been besieged by other game developers, desperate to get hold of the EyeToy technology. The EyeToy camera is now a standard piece of PS2 kit – Sony Europe is planning the continuing EyeToy Revolution for its webcam peripheral.
From the original EyeToy: Play – now available including camera for £19.99 – and the sequel EyeToy: Play 2to the musical camp-fest EyeToy Groove, new EyeToy releases are becoming more specific, with several releases slated for 2005. Hot on the news that EyeToy will power a global PlayStation communications network named EyeToy: Comms, comes the revelation that EyeToy: Fight and EyeToy: Sports are underway. EyeToy: Fight will be a battle-themed outing, with EyeToy: Sports offering a more athletic approach to motion sensing gameplay.
Sony's latest offering is EyeToy: Monkey Mania, a family board game style title, and in addition have confirmed EyeToy: Kinetic a fitness games and EyeToy: AntiGrav, a hoverboard game that represents the first step in incorporating EyeToy into character control gameplay through the use of colour and body recognition technology. Players will move their body, not a controller, to guide their 3D character in steering, speed, and trick manoeuvres, as they interact with the environment and avoid obstacles.
Other Publishers have also released EyeToy Titles. Konami have released U Move Super Sports a fun sports-themed EyeToy game and Disney Move is based on a Disney characters with using EyeToy technology, while Sega's Sega Superstarsgives EyeToy gamers the chance to Race with Sonic, go bananas with Super Monkey Ball, battle Akira or Rau of Virtua Fighter fame in a toe-to-toe power attack and play a variety of instruments in Samba de Amigo rhythm.
In addition there are EyeToy compatible titles and the first is Singstar which is billed as the propelling karaoke into the next generation – released in May 2004. In the same month the Harry Potter title The Prisoner of Azkaban was released, and this was the first game title to utilise EyeToy. Released for Xmas was Singstar Party and the next Sims offering The Urbz – all are Eyetoy compatible. Check Here Regularly for more updates.
Also there are Eyetoy Compatible Software Titles that enhance the Eyetoy capability. For instance Junk TV lets you share your EyeToy video creations with the world via the PS2 (provided your PS2 is Broadband Enabled). Trade EyeToy videos with your friends: Upload your EyeToy video message files to your own private Junk TV homepage so that only your closest friends can view them. It's fast, secure, and easy to use.
PS2 EyeToy Webcam:
Connect the EyeToy to your PC via a standard D-Link Driver. If you have a bit of Windows knowledge and no fear of messing with Notepad or another text editor, head over to this site. The "tweak" involves downloading a DLink driver and manipulating a few windows system files.