… Is there a game doctor in the house…, as I have a serious new addiction. An addiction that satisfies my craving for quality group action fun!
Graphics
Graphically, EOA isn't a heavily visual game that pushes the PS2 system to its limits. In fact the game more coincide with its PC counterpart where its minimum system requirements were a Pentium 166 on a D3D accelerator. But the one aspect Everquest does has are huge environments that virtually never ends, where as getting to one station village to another can literally take up to 20 minutes to a full hour to get there. Then if you factor in the many creatures that will cross your path from getting to point A to point B, you can add a couple more hefty minutes to your time.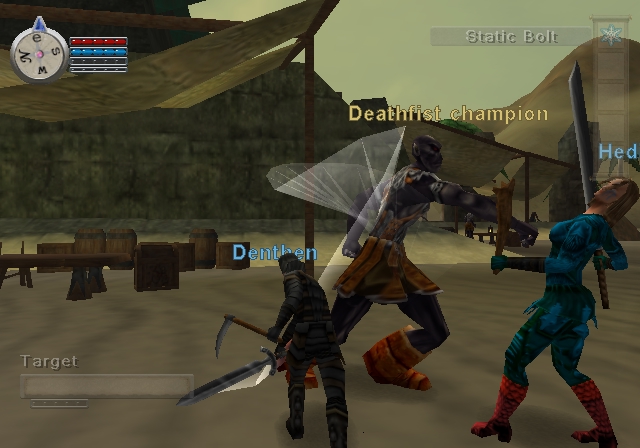 Character models range from all type of size, shape, and color. You have your short people like the Halfling, Gnome, & Dwarfs… then there are your normal to height characters, Elf, Humans, & Barbarians. The detail of the character models highly depends on the armors you piece together ranging from bronze & silver metal plates, wooded, leather, robes, and skin cloth. Creatures at first will only appears to be your typical wildlife animals, but as you cross the many vast regions to the unknown, many new type of baddies with appear, some will stun you at there enormous size, some will gross you out at there appears. As for visual special lighting effects, they are very limited to most characters of there class, where you may see a brief glowing effect around a person when they cast a spell to enhance there stats.
Sound
The lack of musical background is a smart move by the developers. As a game that plays with no ends have had background music would have become truly redundant. However there is an option in the game that does allow you to set battle music that will only start when you are attacked or attacking a rival target and ends when the battle is over. Actual voice speaking is no where to be heard and special effect is limited to a handful. There are the typical grunts when hitting & getting hit, sword clashes if you're a warrior, fatal scream when you die, and the ever so thumping when running.
Gameplay
Everquest Online Adventure is a game without a story, yet its one of the most addictive game I have ever played. I consider myself a RPG fan, where I'm usually immerse in the game's storyline, but here I'm more interested in teaming up, traveling across the wild to see new areas, new baddies, and searching for rare armor pieces. The game does have many as its title name says, "quest" where you have to activate each quest by going to your class guild head leaders. They usually required you to retrieve an item and give a little back story on the item you must get, but the fun part is getting the item that always results in you finding and fight an unusual quest bosses.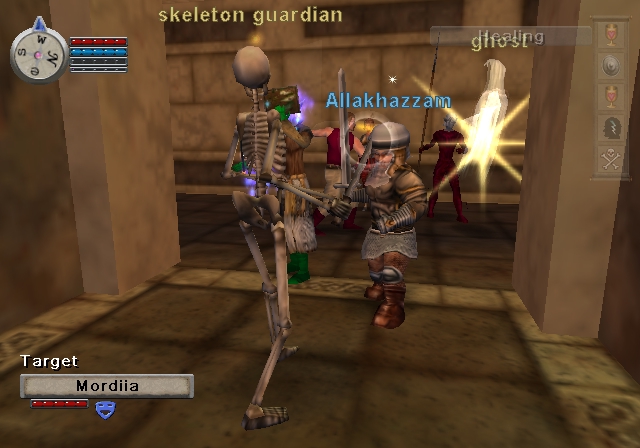 The key aspect of EOA is team work, finding buddies to team up with can depend on a lot of things but most being how well you use the class you chosen. For examples, every group/guild needs a healer, if you chosen to master the skills of a Cleric, its pretty much known you'll be asked many so time more than any other class to join their group for an adventure. Playing fair is also a part of it, as your character you creatures saves on the side of a the server, which lessen the chance of hackers and cheaters 100%, you will come in contacted with people that you will see over and over again. Most of the time, your group and their group will be doing the same quest, so when both groups are at the destination of the quest item, each must have respect for which ever group got there first. (KS) aka Kill Stealing, where another group or person fights a baddy and another person or groups comes along to attack that same baddy to take the drop item from the kill will make you and label you as a KS.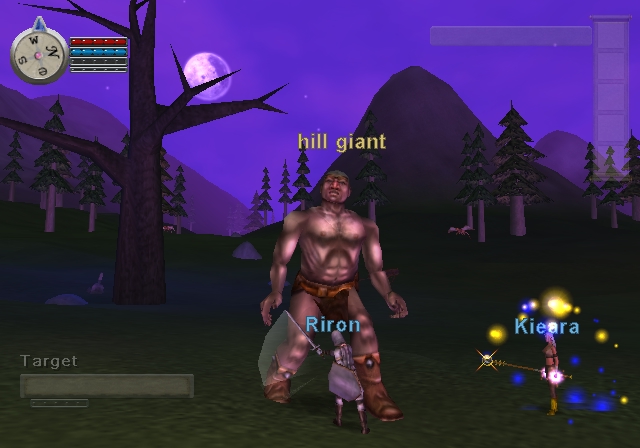 Essential part of EOA is having a keyboard (USB), sure the developers put in a nice yet cheesy keyboard setup and hotkey for the controller, but if you want to get around like asking for directions or want to participate in group conversation it's a must have. Control setup is responsive and fluent yet having not played the PC version where it was just a mouse and a keyboard, the dual analog make the game play with ease.
Lastability
Patience is the key word here as you know by now, this game has no ending, but it will take months to reach the ultimate level. Currently level 20 at the time of writing this, I can't wait to jump back into the game, and go for level 24 by week's ends to unlock my new more powerful Druids spells. The questions you need to ask yourself are, how far and deep can I go into the vast world that is Everquest, what unknown creatures lurks above and below?… what new quests Sony can add via monthly to inspire me to venture here then there and back again? And the last but not least, how many different characters can I create and max? If you want to answers these, you have to play, play, and play some more.
The Final Word
It's an addiction, a very good one at that, where you can make up to 2,999 new friends for the small monthly fee of $9.95. This MMOPG is just another example of a title that has translated really well in to the console world.