Brought to the PlayStation 2 by T&E Soft, the team behind 2000's Swing Away Golf, Disney Golf doesn't break any new ground but is a respectable arcade style golf game that is perfect for those rainy days at home. Based on the same gaming engine as its developer's predecessor, Disney Golf is essentially a less robust version of Swing Away Golf that has been given the Disney once over making it suitable for gamers of all ages.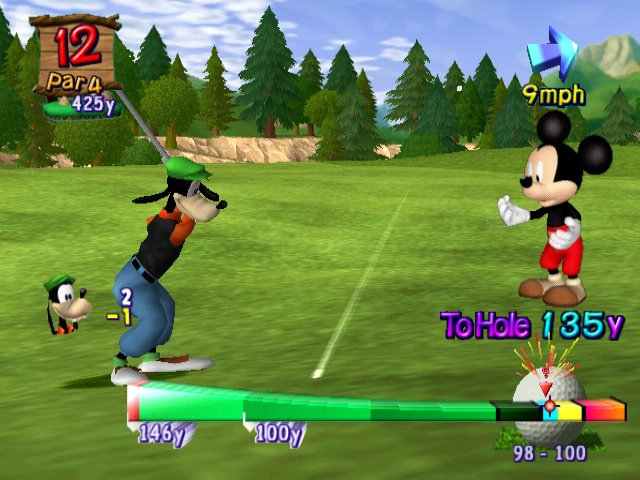 There are a variety of enjoyable gameplay modes available including stroke, match, long-drive, near pin and skins. In addition there is a team play mode which is particularly fun. The games only dedicated single player mode allows players to tee off against another Disney character and is likely to be the mode that most gamers will play the most.
Disney Golf offers a total of eight playable characters including favourites such as Donald Duck, Minnie Mouse and Goofy and six different courses to enjoy. Unfortunately Mickey is not one of the playable characters and instead serves as the commentator during gameplay. The game would have been more enjoyable had more work been put into the commentary as it quickly becomes repetitive and is quite generic in nature. Each of the six courses offered in the game are beautifully designed and have a unique theme, such as a tropical island and an old Western style. These courses albeit attractive are unlikely to challenge golfing game pros. Disney Golf would have increased longevity had the developers included additional courses or allowed players to design their own courses.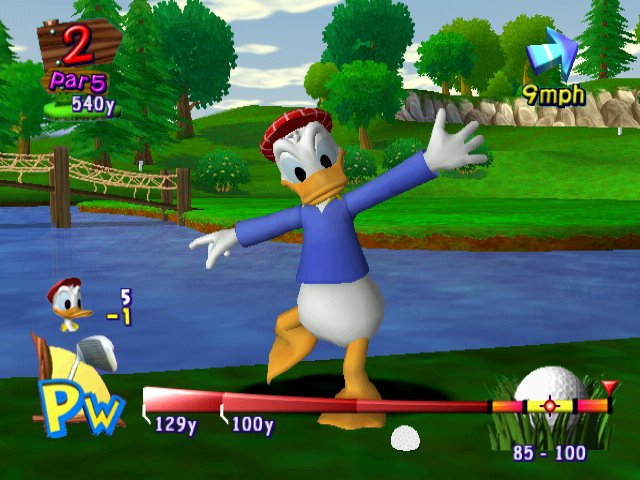 Controlling your shots in Disney Golf is straightforward as the game has maintained Swing Away Golfs three click digital swing and putting mechanics. However, many gamers are likely to lament the fact that the developers have not incorporated the more modern analogue swing method found in other games including EA Sports most recent Tiger Wood's Golf. Despite this, the tried and true method does fit well with the games arcade feel and is simple and effective.
The graphical presentation of the game is cartoonish and is well suited to the Disney theme. The Disney characters are faithfully animated and look great with the colourful themed courses behind them. The graphics are unlikely to blow you away but most players will be satisfied as the game is consistent with the expected Disney look. The presentation of the game also fits well with the nostalgic Disney inspired soundtrack and authentic character voices.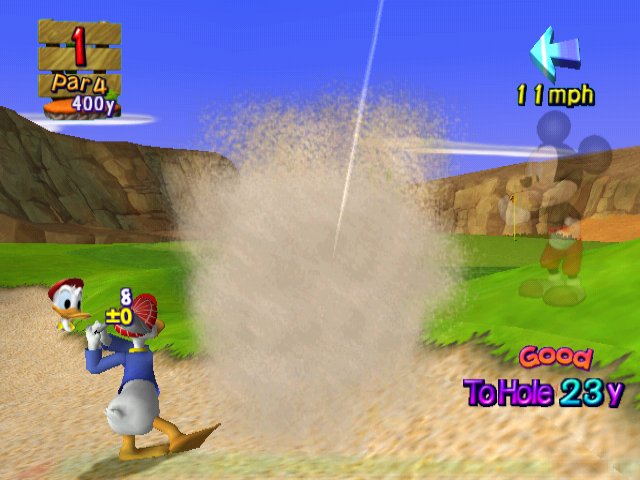 True Disney fans may be left a little disappointed that the Disney licence was not used to greater effect throughout the game. This results in something that feels like an arcade golf game with Disney thrown in as an afterthought. But despite this the game is ultimately enjoyable and will satisfy video golf fans as long as their expectations are kept in check.